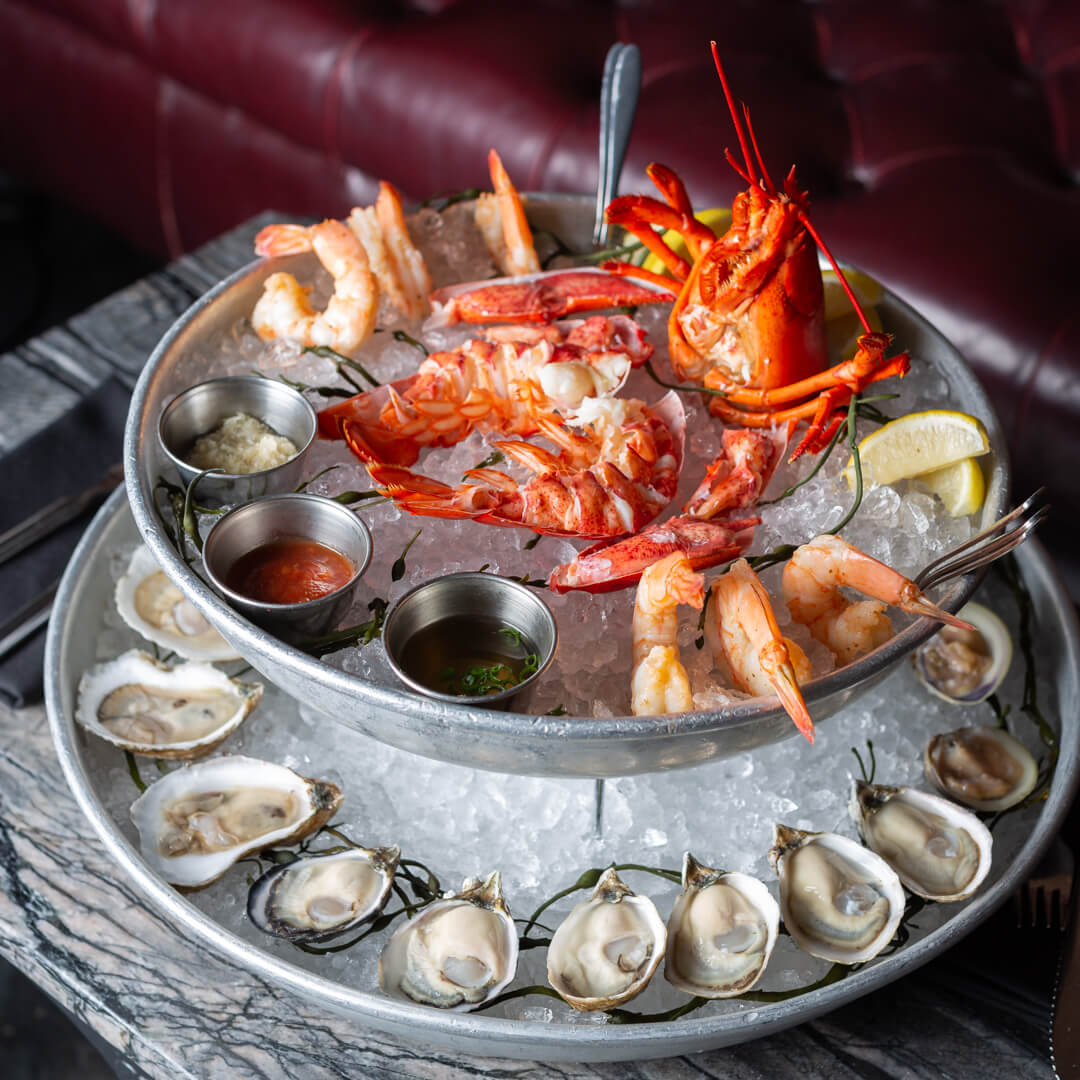 Raw Bar
SPICY SALMON TARTARE *
18
orange & black tobiko, pickled daikon radish, avocado mousse
Tuna Poke Wonton Tacos *
21
cilantro, radish, wasabi kewpie
Ahi Tuna Sashimi*
21
white soy vinaigrette, jalapeño avocado purée
Shrimp Cocktail
24
smoked cocktail sauce, pickled jalapeno remoulade
Beef Carpaccio*
28
black truffle, arugula, parmesan aioli, toasted pine nuts
East & West Coast Oysters Half Dozen*
21
East & West Coast Oysters Dozen*
38
Pearls of The Sea*
84
dozen oysters, tuna poke, 6 shrimp cocktail, 1 lb lobster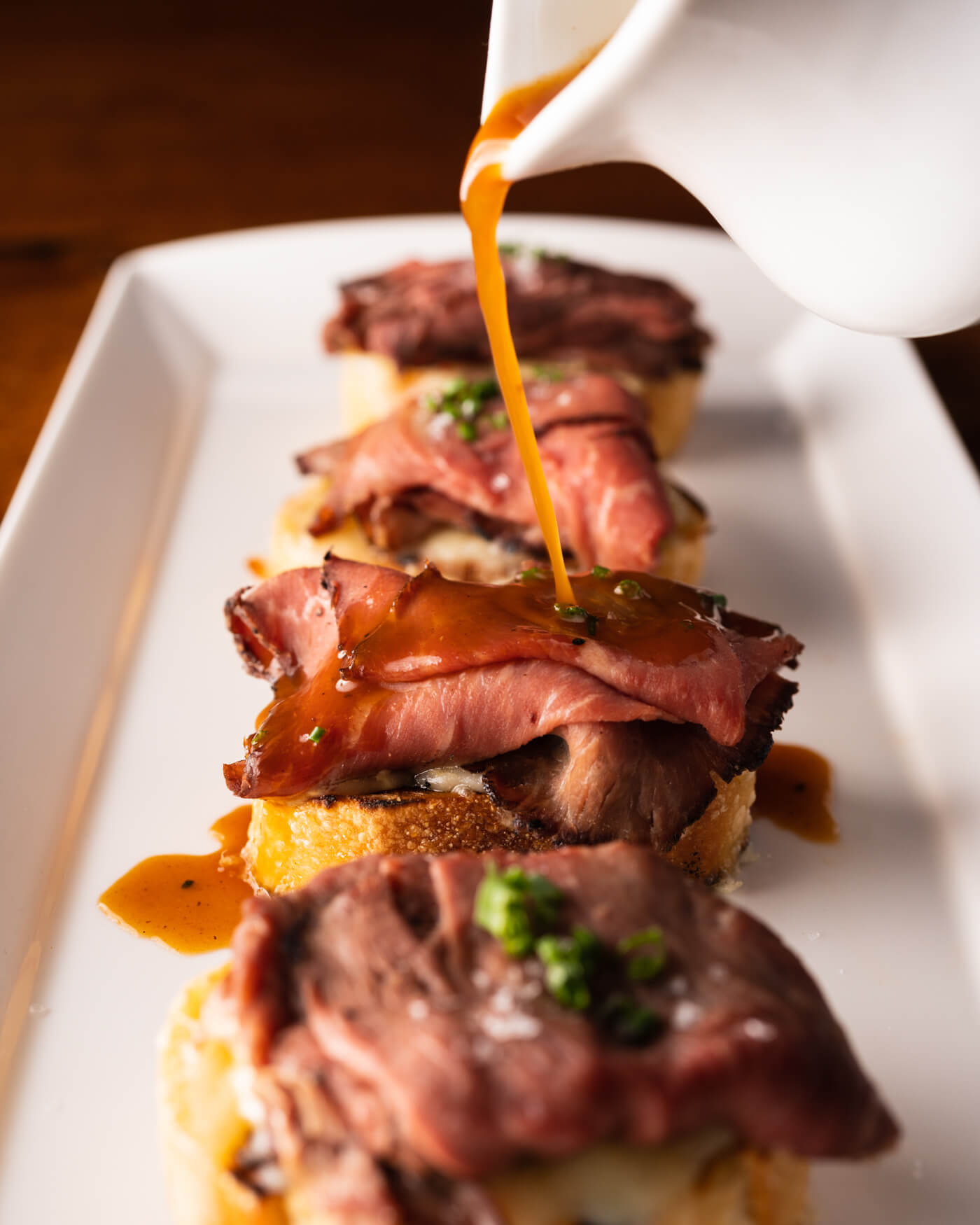 Jewels on Toast
AVOCADO, LEMON & ESPELETTE
14
LITTLE FRENCH DIPS*
21
slow-roasted prime sirloin, Gruyère cheese, horseradish-garlic aioli, house-made au jus
Butter Poached Lobster Sopes
23
black bean puree, crispy tortilla, tequila-habanero salsa
ROASTED BONE MARROW
26
rioja braised shallot marmalade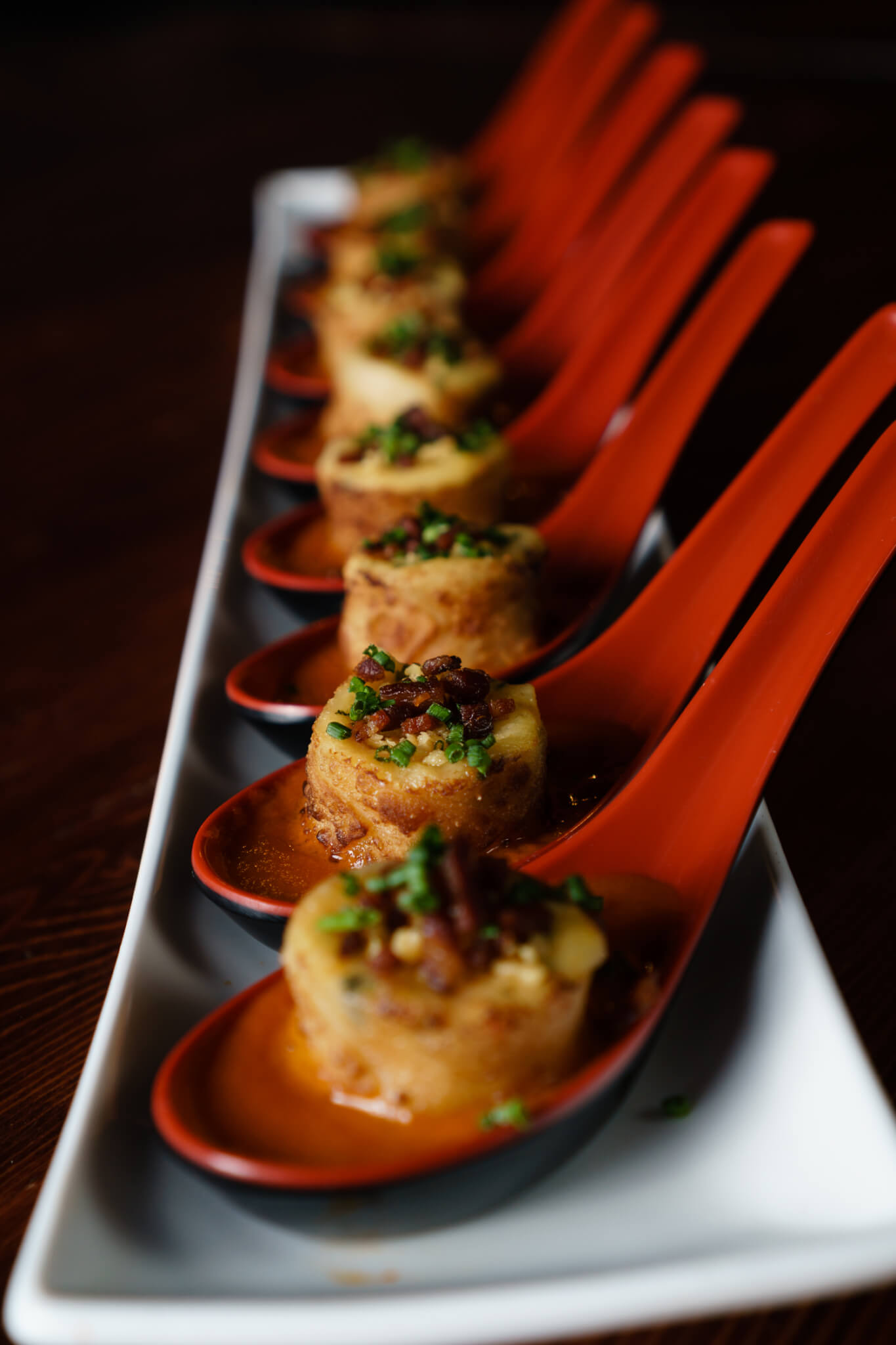 Dumplings
TORTILLA SOUP DUMPLINGS
17
queso poblano, vegetable pozole broth
GRILLED CHEESE, SMOKED BACON & TOMATO SOUP DUMPLINGS
21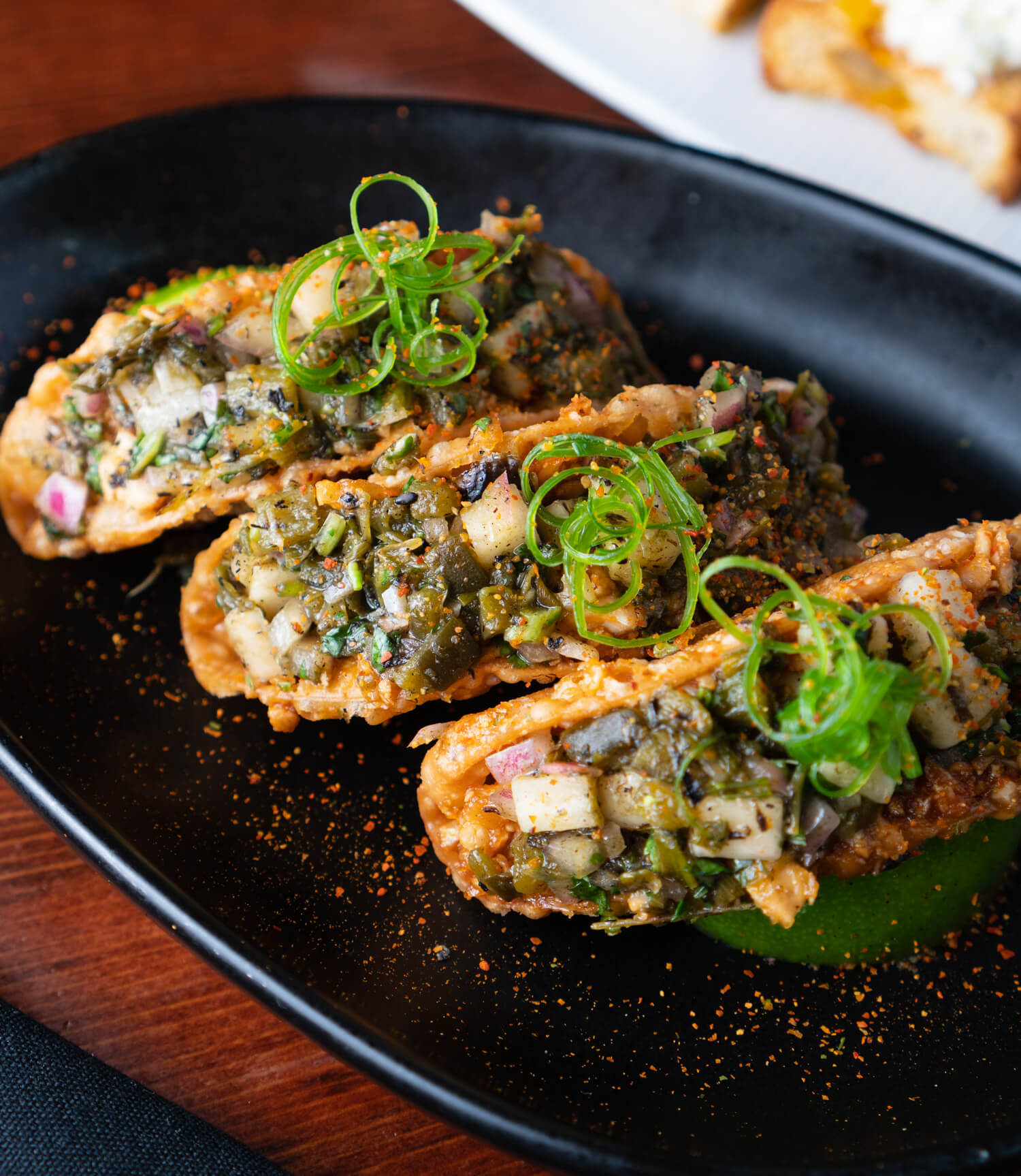 Shareables
THE HOUSE SALAD
15
market greens, pickled carrots, crispy chickpeas, manchego cheese, carrot-harissa vinaigrette
KALE & APPLE SALAD
16
candied pecans, shaved goat cheese, pancetta, apple cider vinaigrette
CAULIFLOWER TACOS
18
apple miso marinade, gochujang, charred scallion salsa
'CHICKEN' AREPAS
21
Daring plant-based chicken, salsa verde, pickled jalapeno, cilantro
KOREAN STYLE FISH TACOS
24
chilean sea bass, chili crisp, red cabbage gochujang slaw
THAI STYLE DEEP FRIED SHRIMP
26
green papaya slaw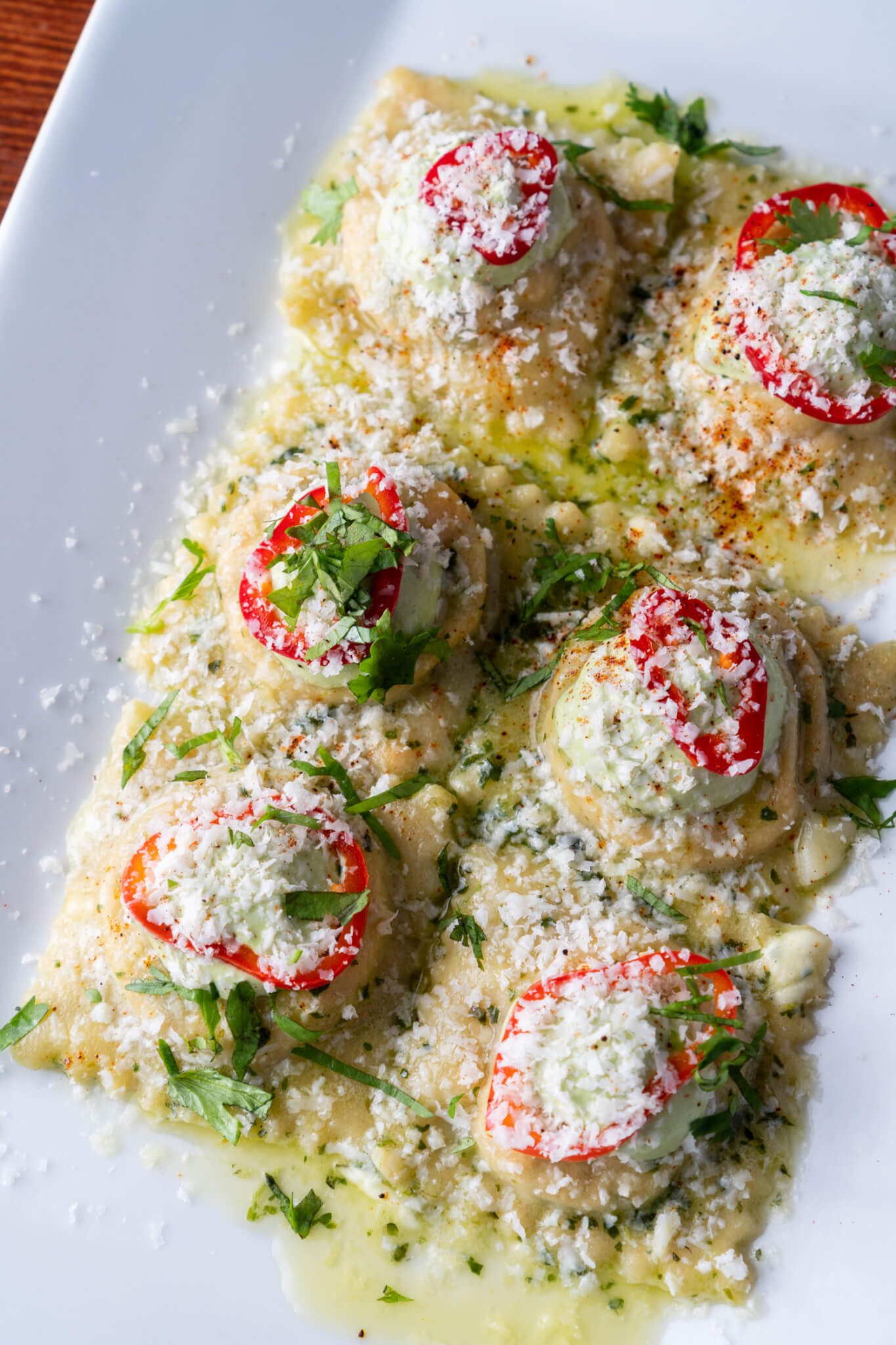 For The Table
SPAGHETTINI*
24
zucchini, lemon, parsley pesto, parmigiano, sunny-side up egg
MEXICAN STREET CORN RAVIOLI
25
roasted poblano creme, jalapeño, cotija, cilantro
OVEN BRAISED CHICKEN MEATBALLS
26
whipped ricotta, wild mushroom, truffle
CHILE SPICED DRY AGED BURGER*
26
cilantro aioli, aged cheddar cheese, serrano ham & crispy bbq fries
PERUVIAN CHICKEN
32
carrots, zucchini, yellow squash, sweet peas, jalapeno salsa verde
TOGARASHI SPICED TUNA*
33
Thai red rice, shiitake mushroom, coconut milk
GRILLED ATLANTIC SALMON*
35
sherry vinegar glaze, pearl couscous, red chard, celery root puree
PAN SEARED SCALLOPS*
36
jambalaya risotto, crispy pork belly, piquillo pepper remoulade
Za'atar Spiced Branzino
45
farro, pickled cherry tomatoes, charred spring onion salsa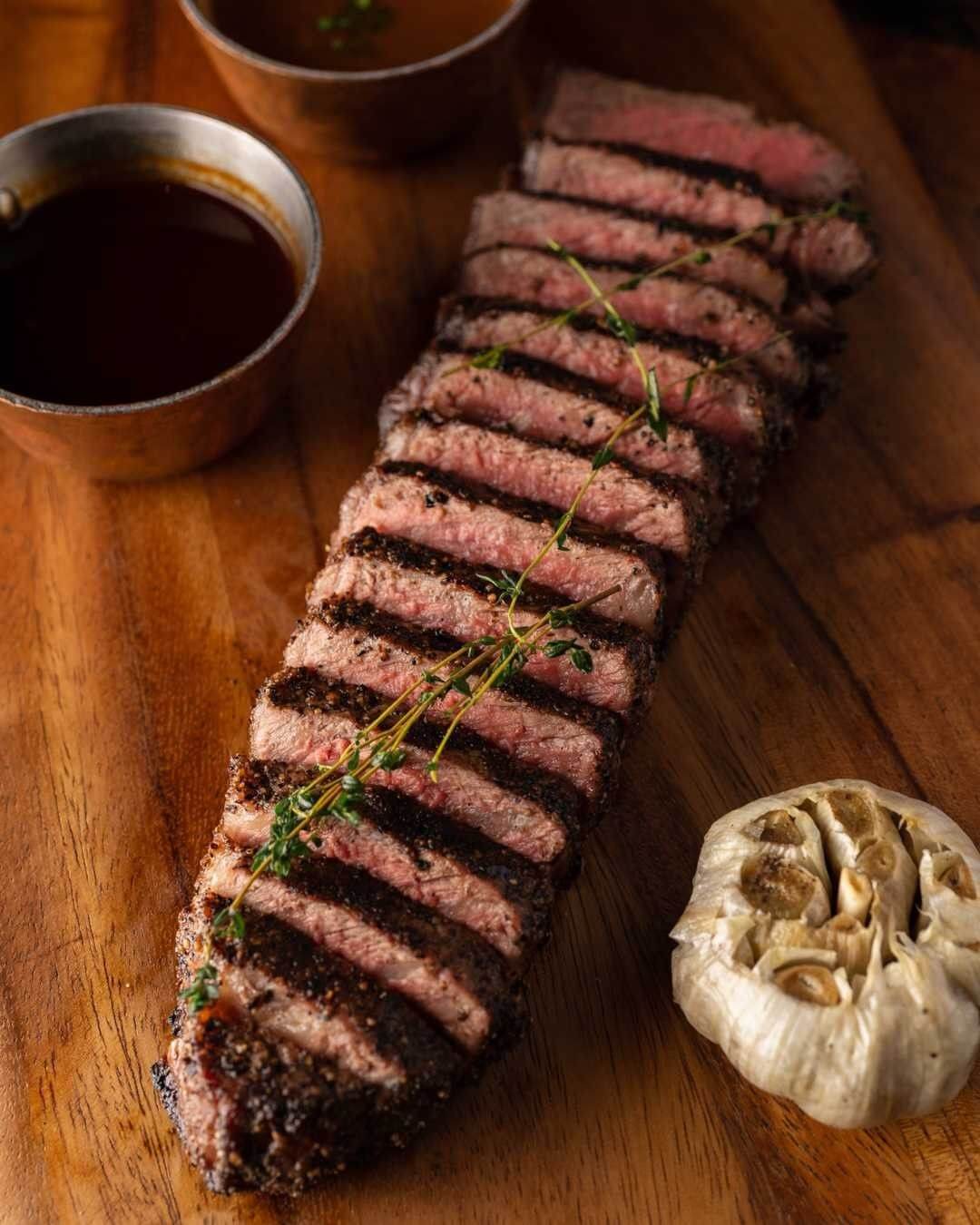 Prime Meats
GRILLED DOUBLE CUT LAMB CHOPS*
54
creamy polenta, port wine glaze
CLASSIC BEEF WELLINGTON*
64
prime filet mignon, foie gras mousse, mushroom duxelles, puff pastry & truffle boredelaise sauce
14 OZ. DRY AGED NY STRIP STEAK*
72
Meyer all natural beef served with Beauty & Essex signature sauces: roasted garlic & bacon / smoked bbq
24 OZ. DRY AGED BONE-IN RIBEYE*
80
served with Beauty & Essex signature sauces: roasted garlic & bacon / smoked bbq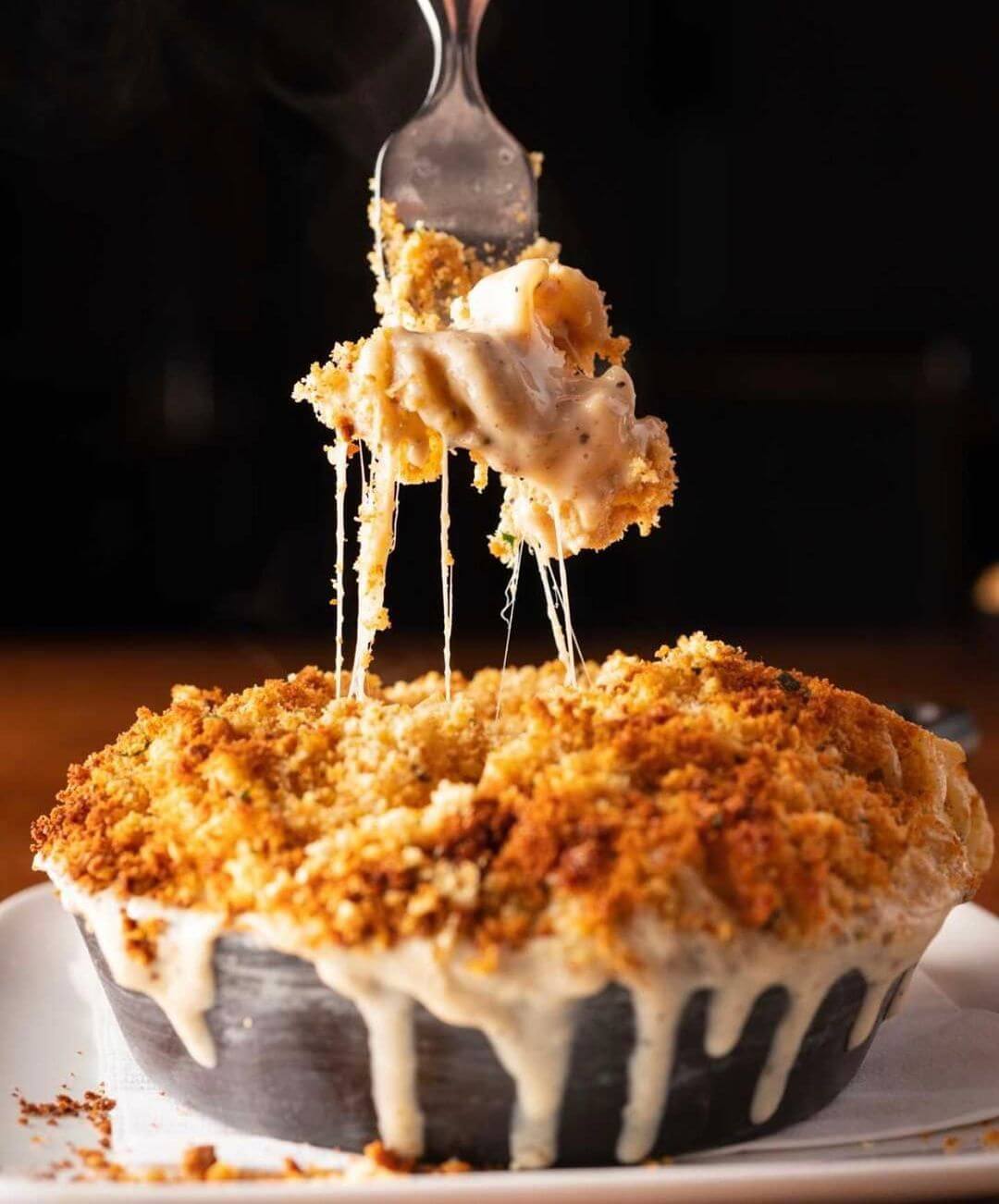 Accessories
CITRUS GLAZED STRING BEANS
14
fresno peppers, grana padano
BROCCOLINI
14
garlic, soy, chile
MISO GLAZED CRISPY EGGPLANT
14
CRISPY VIDALIA ONION RINGS
14
miso honey mustard and sambal ketchup
CACIO E PEPE MAC & CHEESE
19
sicilian bread crumbs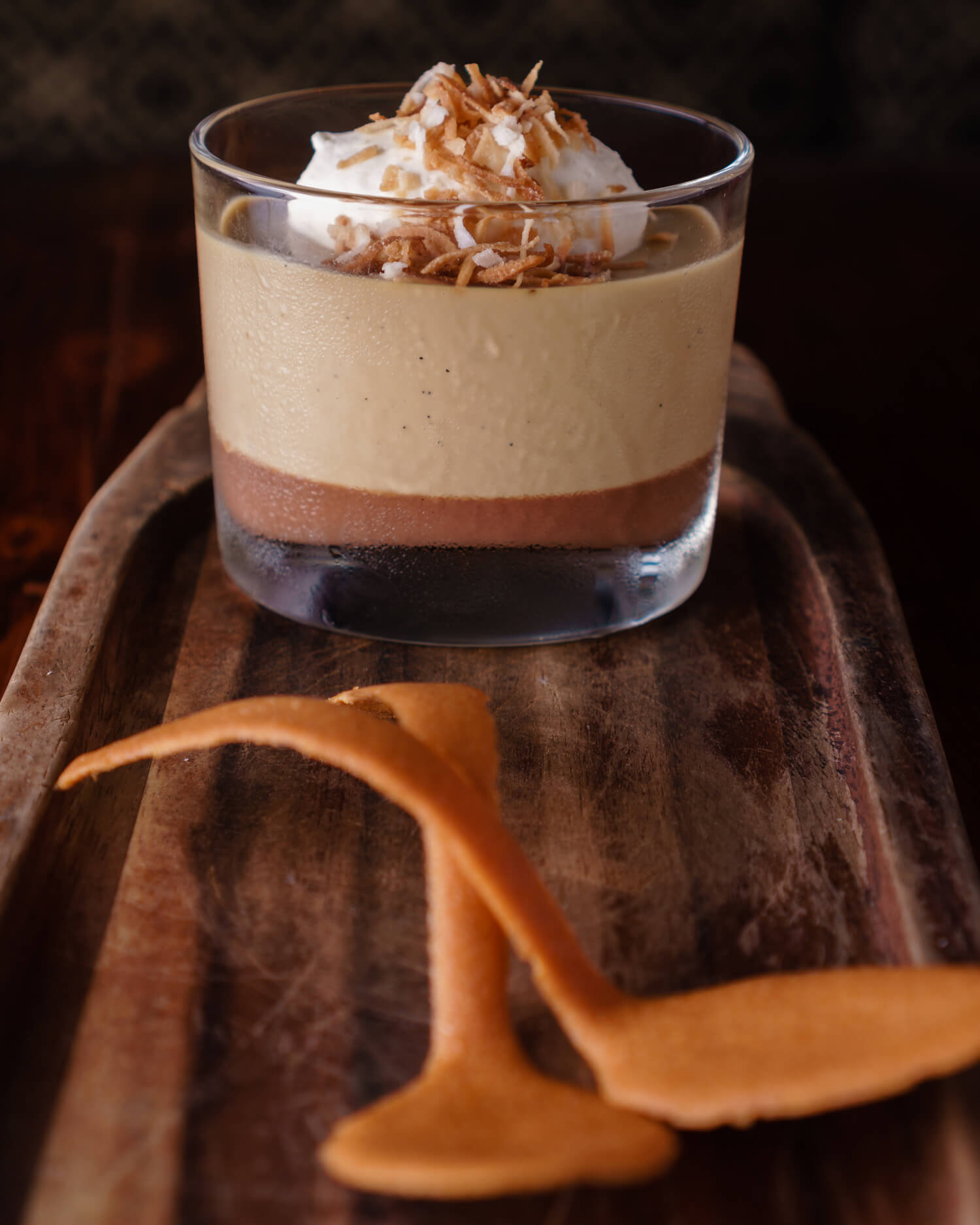 Desserts
HOUSEMADE COOKIE
4
reverse chocolate chip cookie
Vanilla Milkshake Shot
8
vanilla ice cream & Myers dark rum
SELECTION OF ICE CREAM & SORBETS
10
"LES, NYC" DOUGHNUTS
14
dark chocolate fudge, berry & caramel sauces
Tres Leches Cake
15
strawberry & mint salsa, spiced rum caramel sauce, strawberry sorbet
BLACK BOTTOMED BUTTERSCOTCH POT DE CRÈME
15
coconut chantilly
BEAUTY'S WONDER WHEEL
38
for two or more people, chef's selection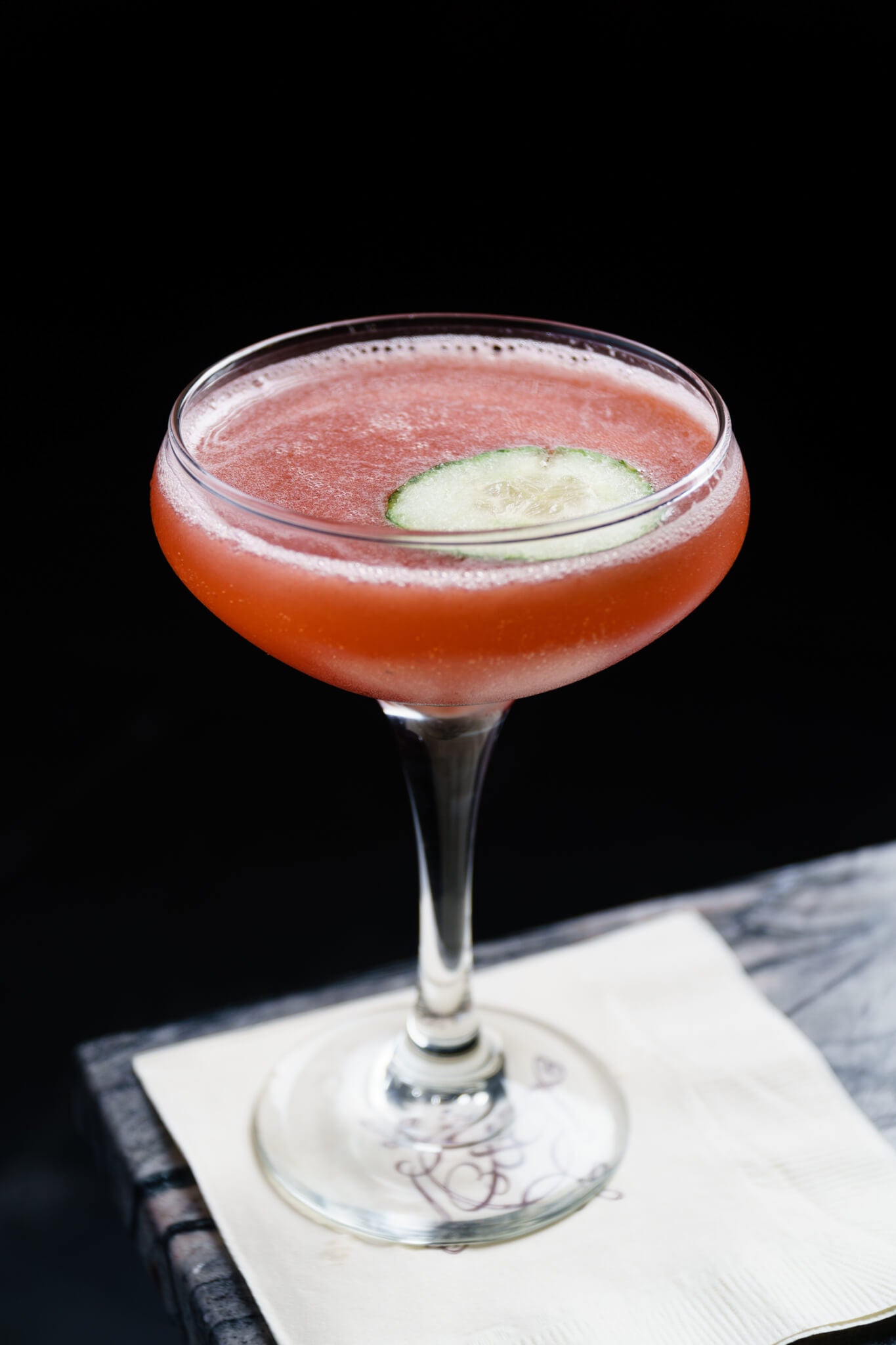 Sweet
BEAUTY ELIXIR
18
supergay vodka, sparkling rosé, cucumber, strawberry
EARL THE PEARL
18
belvedere vodka, earl grey tea, lemon, mint nectar
EMERALD GIMLET
18
tito's vodka, basil, lemon nectar, lime
SUNSLIP
18
mount gay eclipse rum, luxardo, passion fruit, lime
O.D.B. "OLD DIRTY BRAMBLE"
18
lunazul reposado tequila, smoked blackberries, honey, ginger, lemon
UME Thurman
18
vida mezcal, ume plum liqueur, coconut, lime, ginger, tropical red bull
Summer Fling
18
roku gin, watermelon, champagne shrub, lime, mint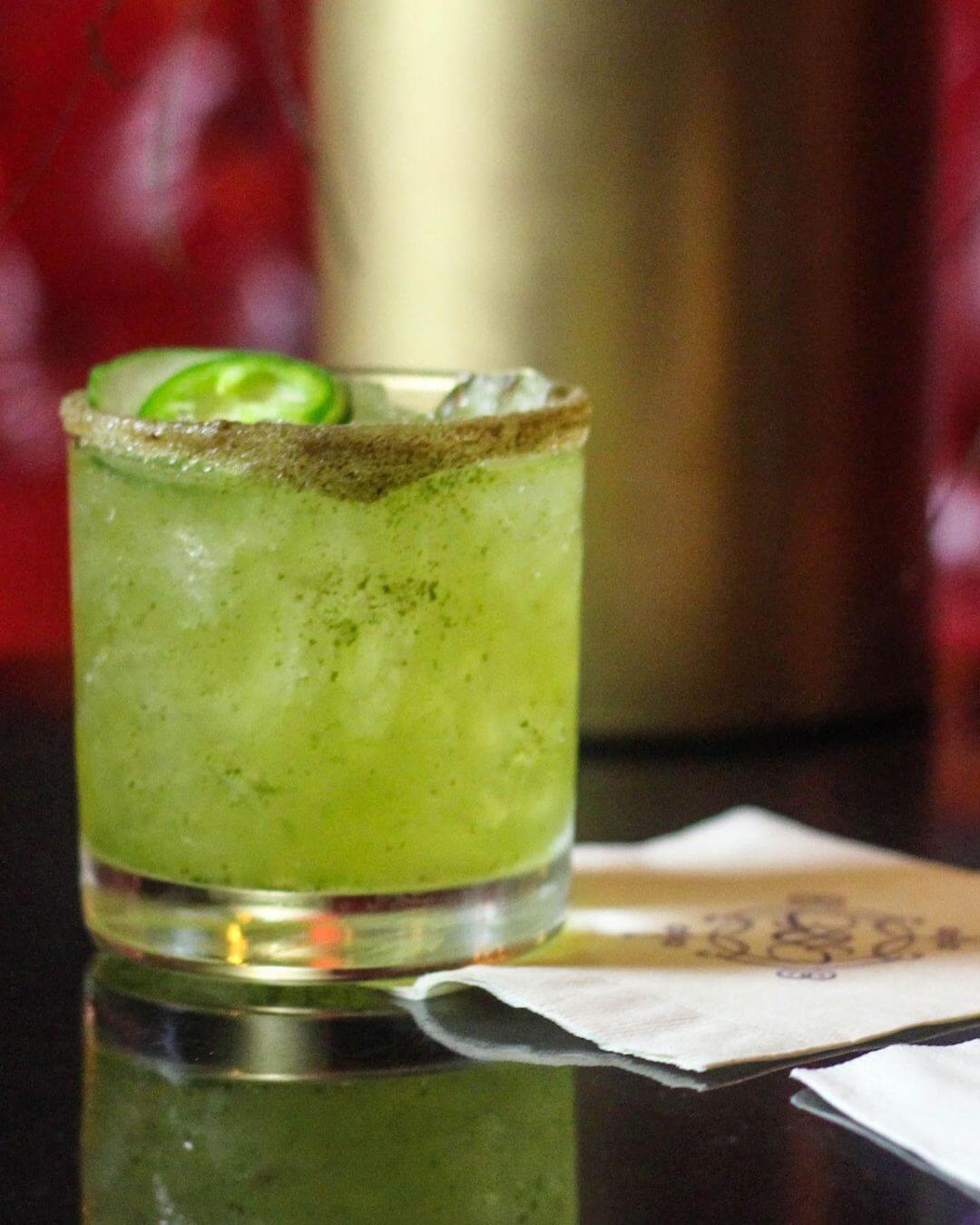 Savory
MEET ME IN IBIZA
18
milagro blanco, macchu pisco, salted green apple, cucumber, lime
THE MERCHANT
18
ilegal mezcal, falernum, bonnie's red pepper jelly, lime, jarritos tamarind soda
GREEN WITH ENVY
18
ketel one botanical cucumber & mint, elderflower, jalapeño & cilantro nectar, celery salt
THE WOODSMAN
18
old forester bourbon, muddled pear, allspice maple syrup, lemon
"Signet Collection"
40
ardbeg an oa, amaro averna, punt e mes, borghetti, smoke
Dessert Cocktails
Flirty Shirley
16
grey goose vodka, luxardo maraschno, amarena cherry, gingerale
Pinky Swear
16
milagro reposado tequila, strawberries, sweet cream, promises
Campfire Martini
17
wild turkey 101 bourbon, creme de cacao, drambuie, marshmallow fluff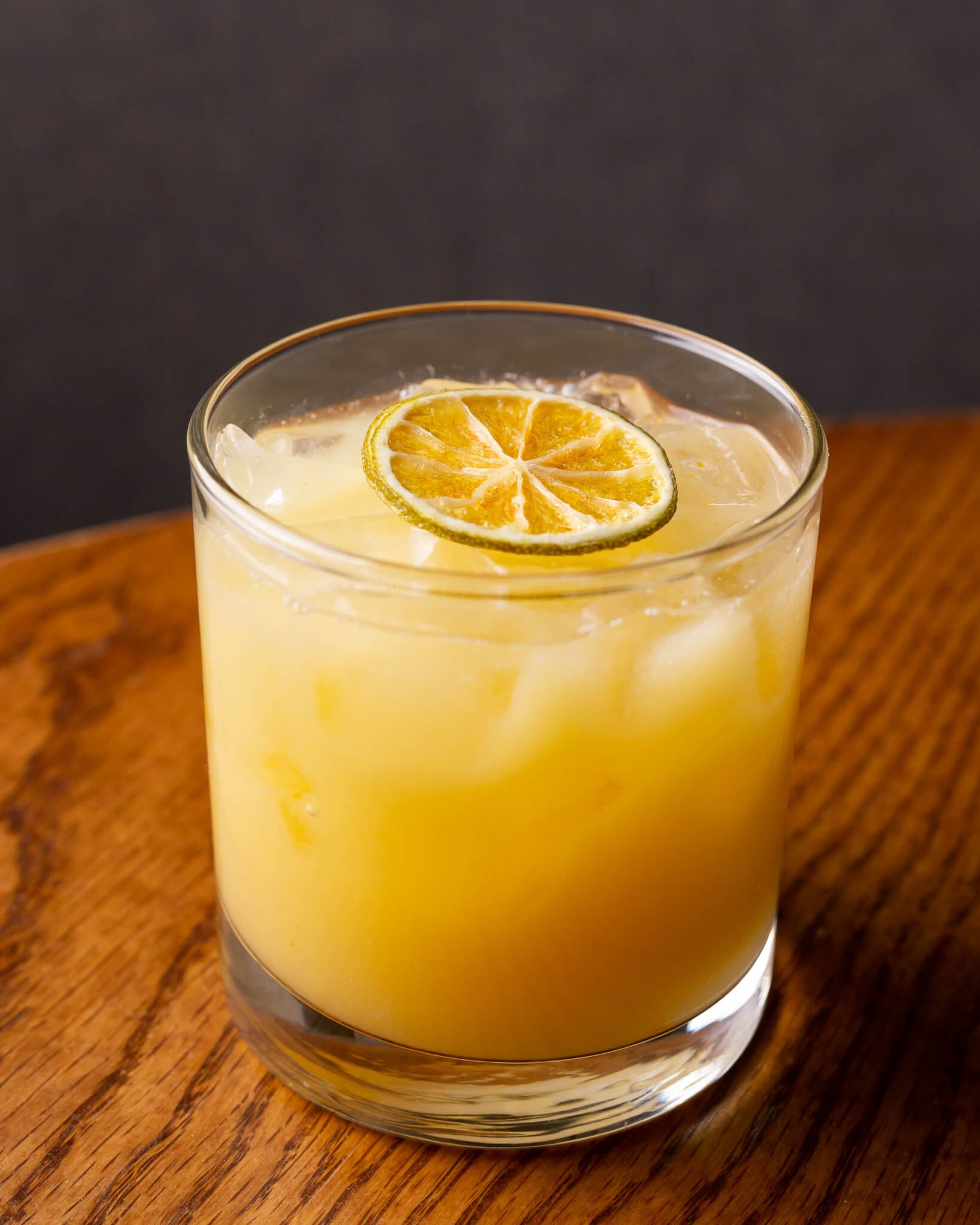 Zero Proof Cocktails
Mint Lemonade
6
lemon, mint, club soda
Carnelian Sol
8
strawberry, cilantro, lime, chili, ginger beer
Garden Party
9
seedlip garden, coconut cream, passionfruit, citrus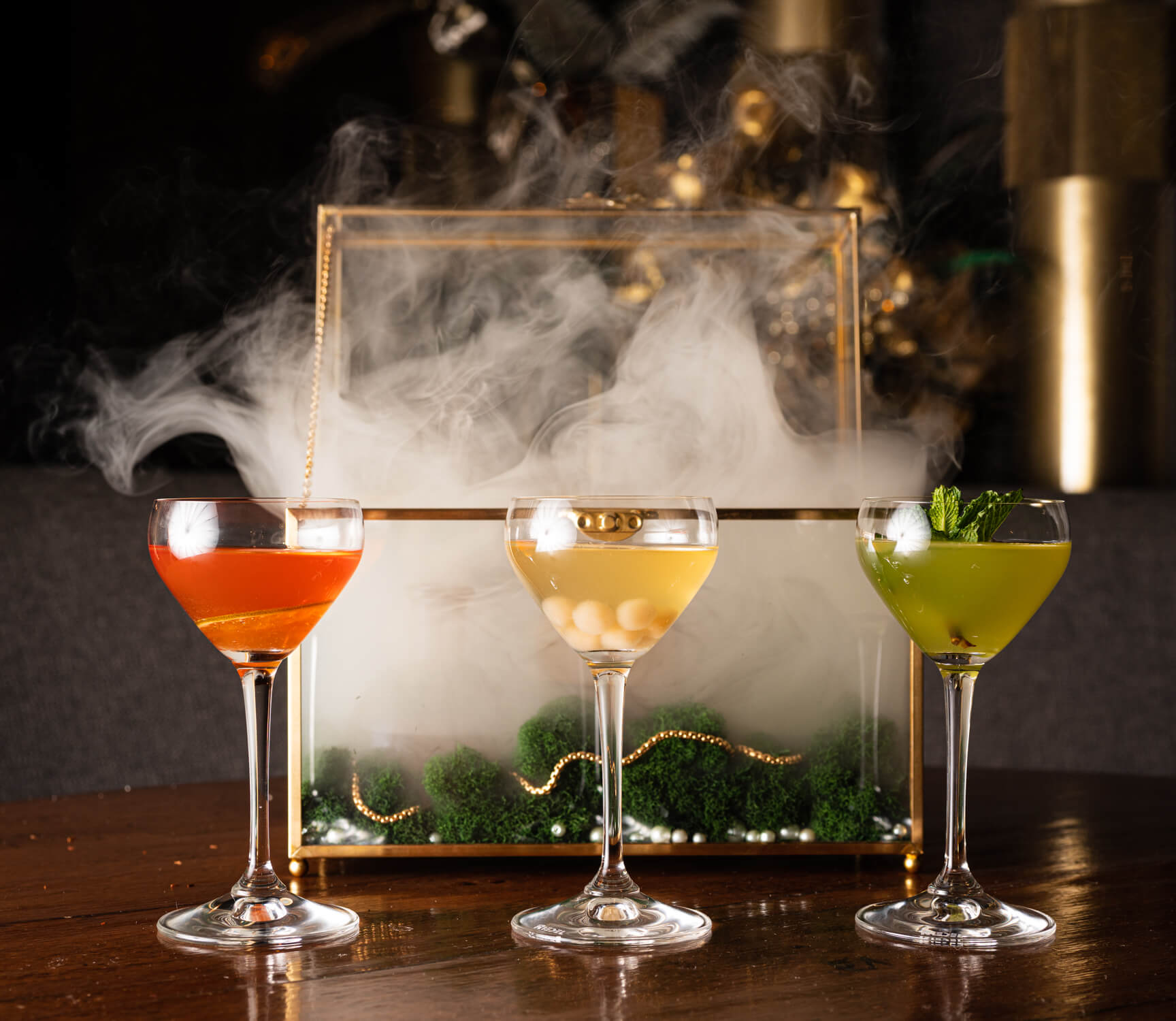 Cocktails
ESPRESSO CUCKOOTINI
18
cocoa puff infused tito's vodka, chilled espresso, mr. black coffee liqueur
BLONDE BLOODY MARIA
18
milagro reposado tequila, valencia & carolina gold tomatoes, jalapeno, lemon & white pepper
BEAUTY ELIXIR
18
dorothy parker gin, cucumber, strawberry, sparkling rosé
SUNSLIP
18
light & aged real mccoy rum, luxardo, passion fruit, lime
CHEEKY PALM
18
lunazul blanco tequila, combier, cream of coconut, lime & ginger
THE WOODSMAN
18
woodford reserve bourbon, pear, allspice maple, lemon
BROWN BUTTER OLD FASHIONED
18
gentleman jack whiskey, brown butter, plum & angostura bitters
SMOKE & PEARLS
65
Garnet Star: tanqueray gin, rooibos tea, lemon, & honey. Jade Rabbit: don julio blanco tequila, vanilla, matcha tea, mint & lime. Opal at Midnight: belvedere vodka, jasmine tea, kleo mastiha, lemon, & honey pearls.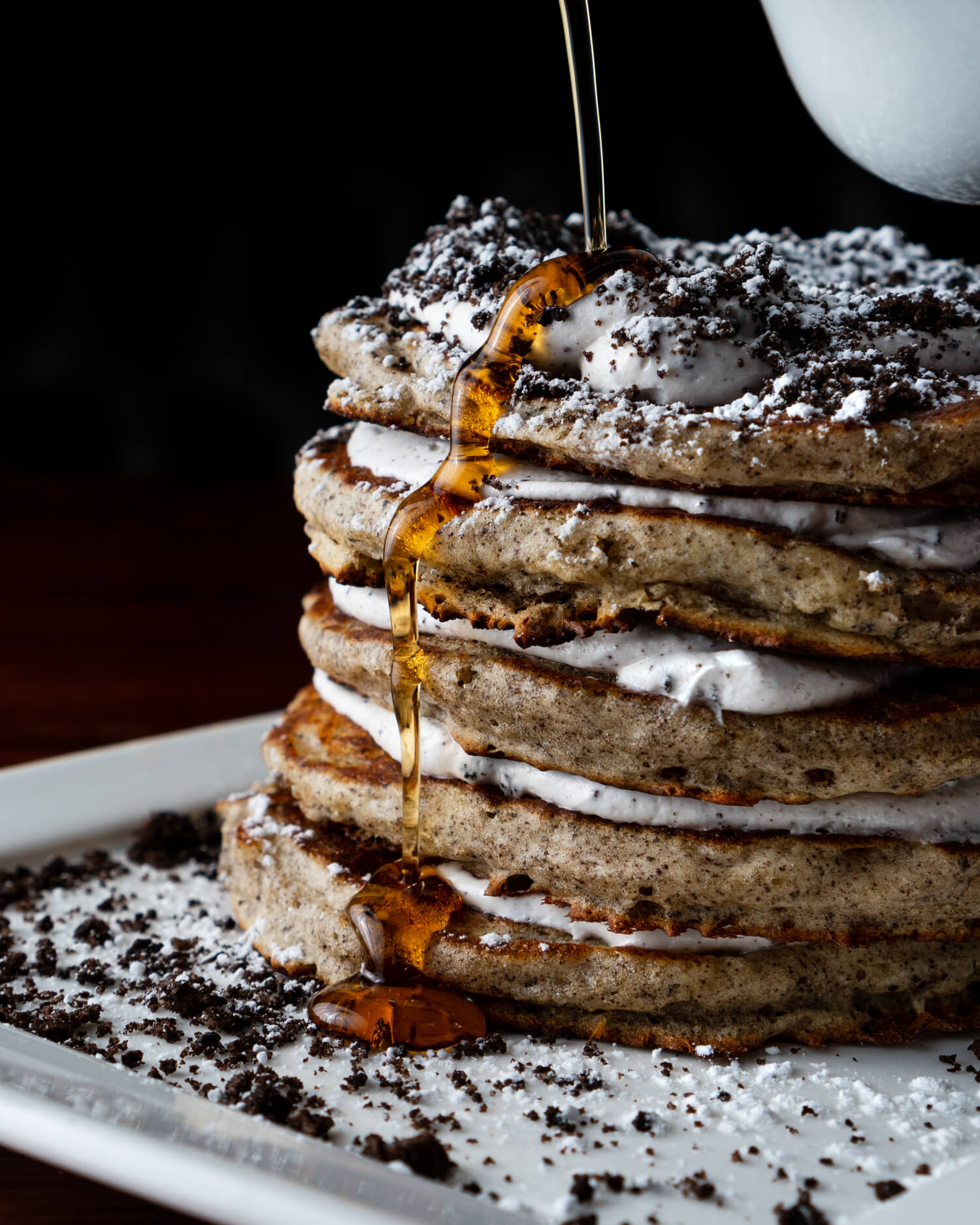 Sweet Things & Starters
HOUSEMADE GRANOLA
12
coconut milk yogurt, banana, blueberries
"LES, NYC" Doughnuts
14
dark chocolate fudge, berry & caramel sauces
'OREO COOKIE' PANCAKES
15
RED VELVET WAFFLES
15
cream cheese icing
WONDER WHEEL
38
chef's selection
THE HOUSE SALAD
15
market greens, carrot - harissa vinaigrette, pickled carrots, crispy chickpeas, manchego cheese
BRUNCH PIZZETTA
16
housemade green chorizo, potatoes, manchego, quail eggs
GRILLED CHEESE, SMOKED BACON & TOMATO SOUP DUMPLINGS
19
EAST & WEST COAST OYSTERS *
21 / 38
(half dozen) / (dozen)
SHRIMP COCKTAIL
24
smoked cocktail sauce, pickled jalapeno remoulade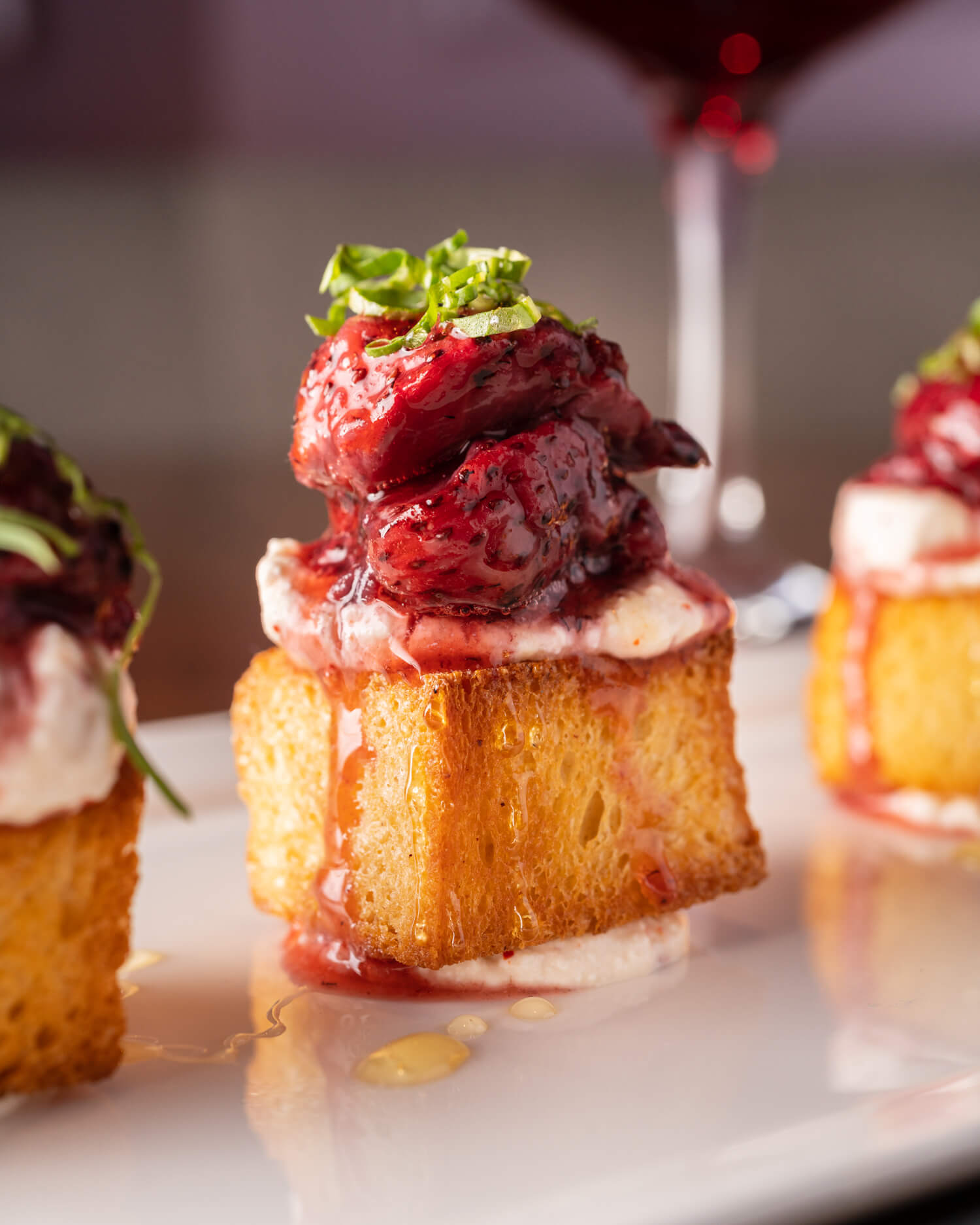 Jewels On Toast
BREAKFAST BRUSCHETTA
13
soft scrambled eggs, oven-dried tomatoes, asiago
AVOCADO, LEMON & ESPLETTE
14
ROASTED STRAWBERRY RICOTTA TOAST
15
basil, chili, lavender honey
CROQUE MONSIEUR BITES
16
hickory smoked ham, gruyere, mustard seed bechamel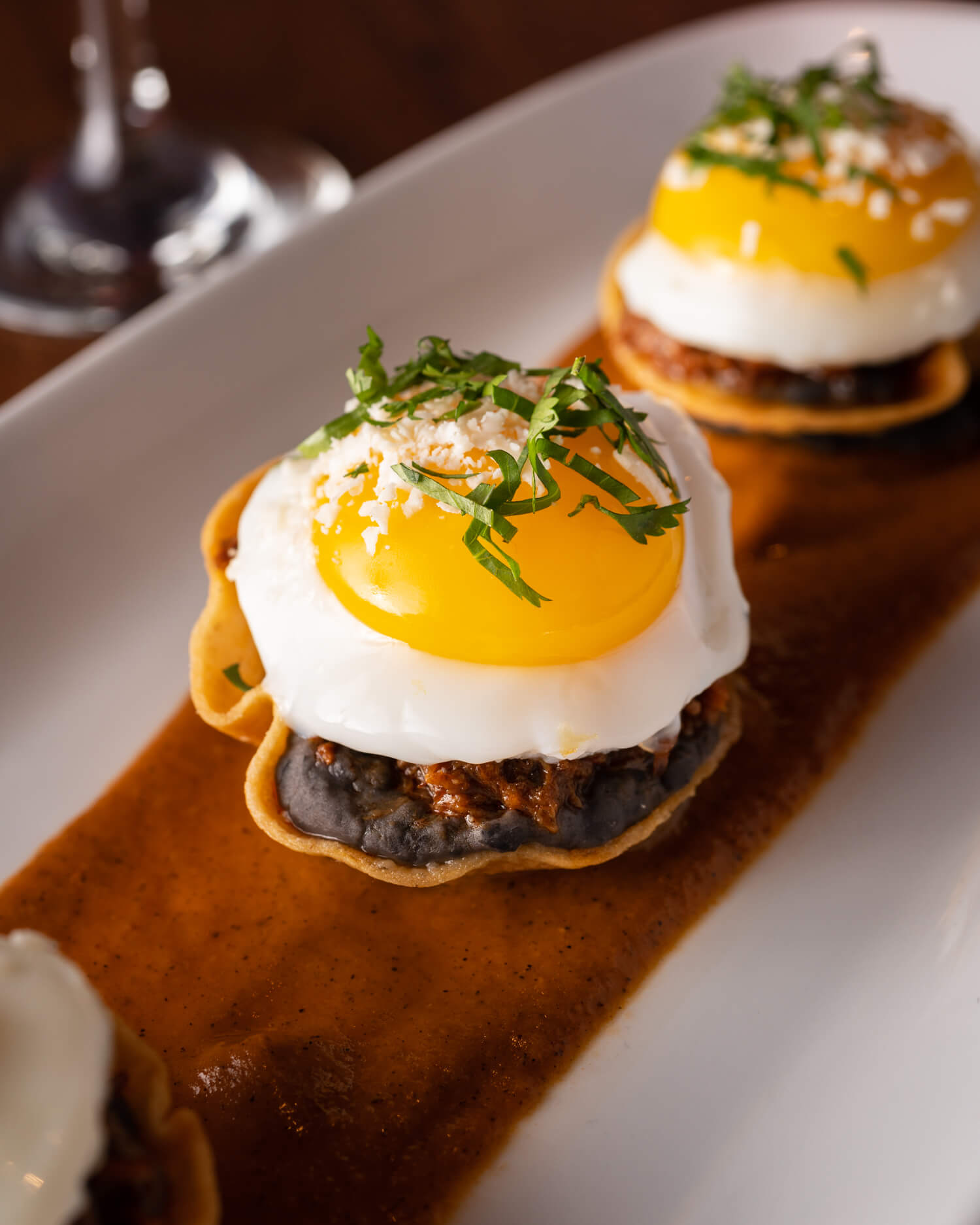 Entrées
BEC SANDWICH
16
croissant ciabatta, aged cheddar, double smoked bacon, fresno
SHAKSHUKA BAKED EGGS*
16
mediterranean style tomato sauce, spinach, feta
BRAISED SHORT RIB 'HUEVOS RANCHEROS' *
18
sunny side up eggs, black beans, cotija
CHILAQUILES *
18
hand pulled chicken, sunny side up egg, cotija cheese, pickled red onion
MARKET VEGETABLE FRITTATA
22
fresh herbs & goat cheese
'CHICKEN N' BISCUITS'
24
Nashville hot fried chicken, blue cheese biscuits, housemade pickles
CHILE SPICED DRY AGED BURGER *
26
cilantro aioli, aged cheddar cheese, serrano ham, & crispy bbq fries
SHRIMP & GRITS
27
salsa madre, slow cooked grits, crispy shallots, chili oil
KOREAN STYLE SKIRT STEAK & EGGS *
28
sunny side up eggs, kimchee & scallion hash
Accessories
DOUBLE SMOKED & MAPLE CURED BACON
9
ASPARAGUS
14
hollandaise, fresh herbs
CRISPY BREAKFAST POTATO
14
kielbasa, kale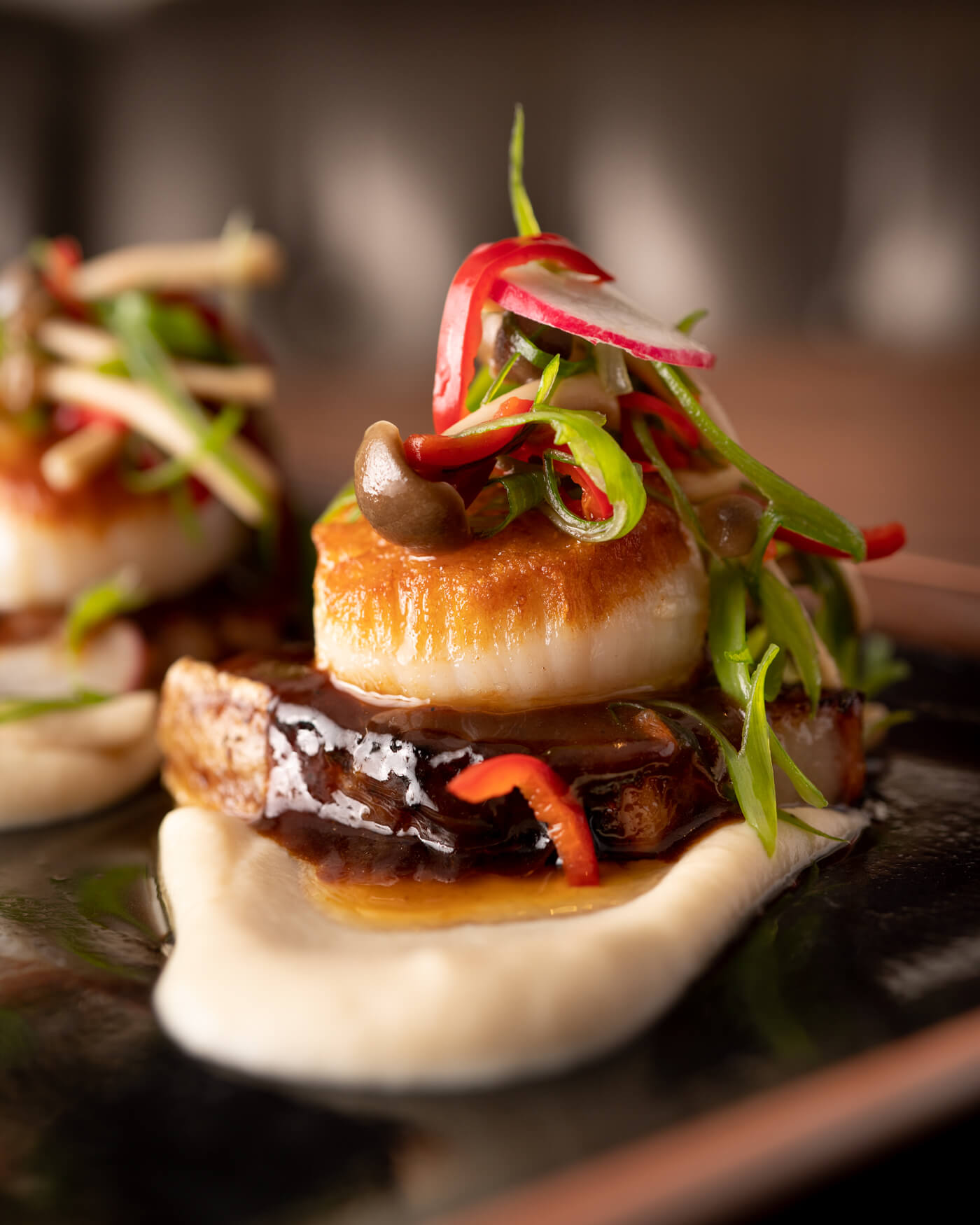 Gluten Free
Avocado, Lemon & Espelette
14
rice cakes
The House Salad
15
market greens, carrot-harissa vinaigrette, pickled carrots, crispy chickpeas, manchego cheese
Kale & Apple Salad
16
apple cider vinaigrette, pancetta, candied pecans, shaved goat cheese
'Chicken' Arepas
21
plant-based chicken, salsa verde, pickled jalapeño, cilantro
Butter Poached Lobster Sopes
23
black bean purée, crispy tortilla, tequila-habanero salsa
Thai Style Deep Fried Shrimp
25
green papaya slaw
Roasted Bone Marrow
26
rioja braised shallot marmalade
Chile Spiced Dry Aged Burger
26
cilantro aioli, aged cheddar cheese, serrano ham, lettuce cup
Peruvian Chicken
29
carrots, zucchini, yellow squash, sweet peas, jalapeño salsa verde
Togarashi Spiced Tuna
33
thai red rice, shiitake mushroom, coconut milk
Grilled Atlantic Salmon
33
sherry vinegar glaze, red chard, celery root purée
Pan Seared Scallops*
36
jambalaya risotto, crispy pork belly, piquillo pepper remoulade
Grilled Double Cut Lamb Chops
52
creamy polenta, port wine glaze
14 Oz. Dry Aged NY Strip Steak
70
meyer all natural beef
24 Oz. Bone-in Ribeye
80
steaks served with Beauty & Essex signature sauces
Spicy Salmon Tartare
17
orange & black tobiko, pickled daikon radish, avocado mousse
Shrimp Cocktail
24
smoked cocktail sauce, pickled jalpeño remoulade
Beef Carpaccio
28
filet mignon, black truffle, arugula, parmesan aioli, toasted pine nuts
Beef Carpaccio
28
filet mignon, black truffle, arugula, parmesan aioli, toasted pine nuts
East & West Coast Oysters
21 / 38
half dozen / dozen
Pearls of the Sea
84
dozen oysters, 1lb lobster, 6 shrimp cocktail
Broccolini
14
garlic, tamari, chile
Miso Glazed Crispy Eggplant
14
Citrus Glazed String Beans
14
fresno peppers, grana padano
Housemade Cookie
4
reverse chocolate chip cookie
Boozy Milkshake Shot
8
rich, creamy vanilla & bourbon
Selection of Gelato & Sorbets
10
Dark Chocolate Brownie Sundae
14
toasted hazelnuts & pecans, tahitain vanilla gelato, caramel sauce
Black Bottomed Butterscotch Pot de Créme
15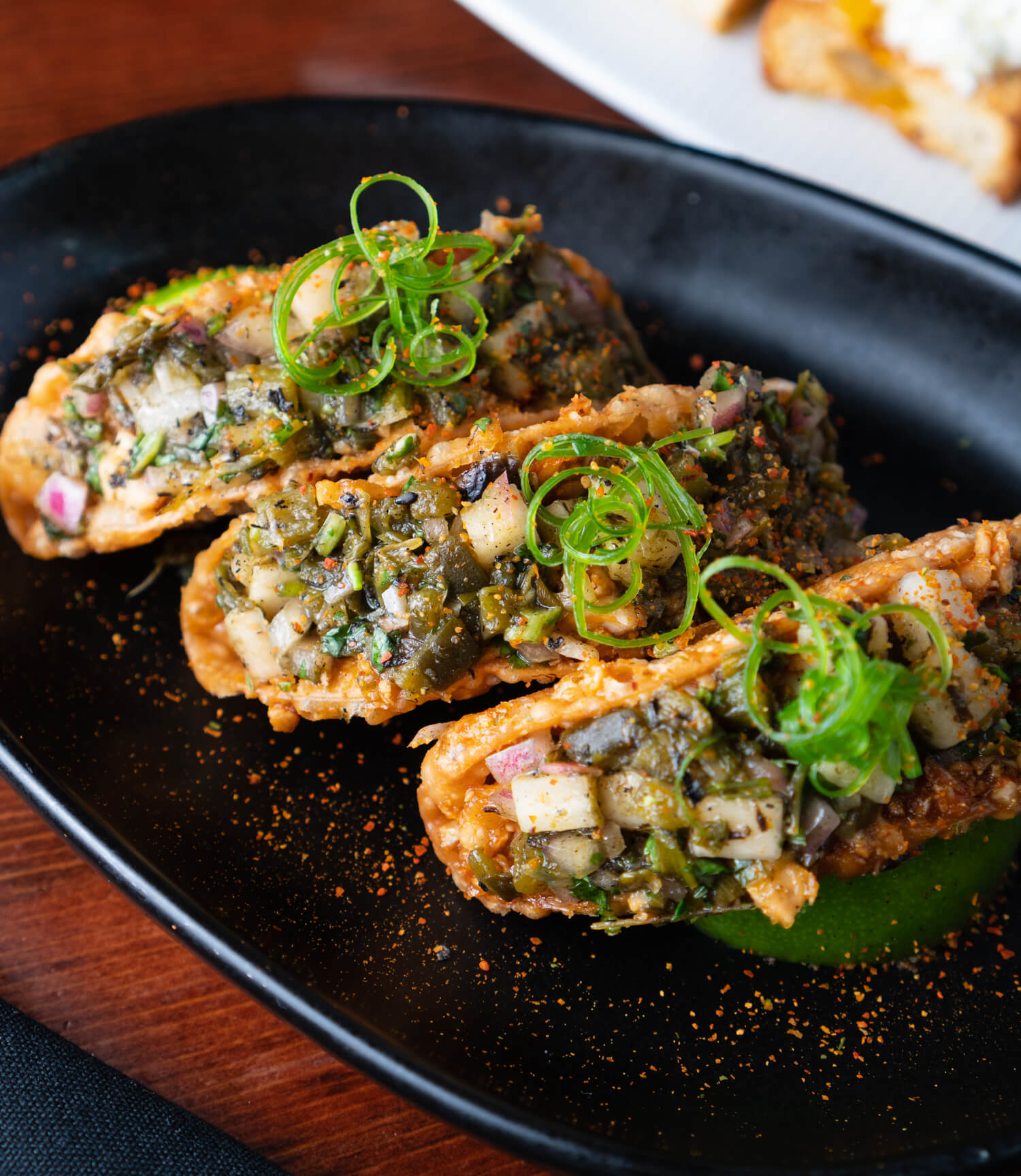 Vegan
Avocado, Lemon & Espelette Toast
14
The House Salad
15
market greens, spicy harissa vinaigrette, pickled carrots, crispy chickpeas
Kale & Apple Salad
16
apple cider vinaigrette, candied pecans
Crispy Cauliflower Tacos
17
apple miso marinade, gochujang, charred scallion salsa
'Chicken' Arepas
21
plant-based chicken, salsa verde, pickled jalapeño, cilantro
Citrus Glazed String Beans
14
fresno peppers
Broccolini
14
garlic, tamari, chile
Miso Glazed Crispy Eggplant
14
Vegetable Jambalaya Risotto
21
piquillo pepper remoulade
Sherry Glazed Tofu
23
swiss chard, pearl couscous, smoked tomato purée
Spaghettini
24
broccolini, tomato, asparagus, lemon vinaigrette
Grilled Marinated Portobello Mushroom
24
thai red rice, lemongrass & coconut milk
Daily Selection of Sorbets
10
Dark Chocolate Brownie Sundae
14
toasted hazelnuts & pecans, tahitain vanilla gelato, caramel sauce