LAVO Italian Restaurant Las Vegas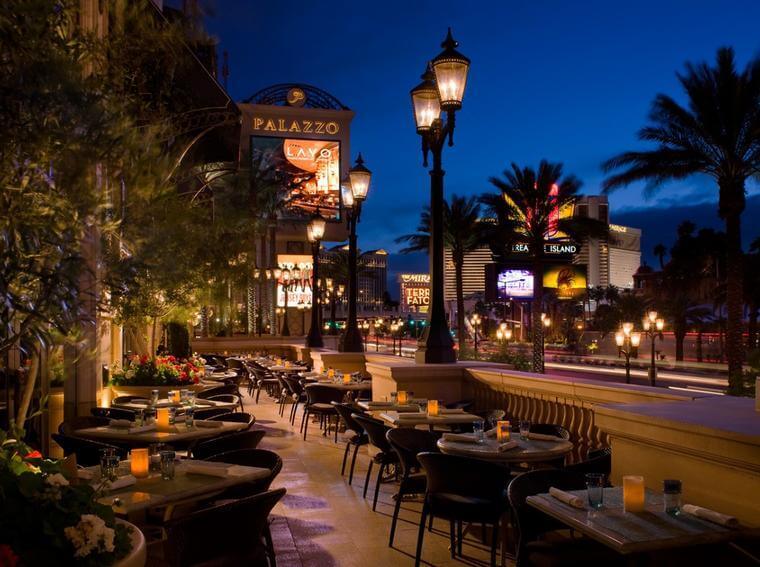 ABOUT
LAVO Las Vegas is the premier destination for delicious Italian fare, paired with hand-crafted cocktails set against an ambiance only the Las Vegas Strip can deliver. It is no surprise that since opening in 2008 inside The Palazzo at The Venetian Resort it has been a perennial celebrity favorite. You never know who may be dining at the next table. Madonna, Tony Bennett, Drake, Rihanna and the Kardashians have all broken bread and toasted friends and family at LAVO.
The menu spans everything from a raw bar and fresh seafood to prime steaks, while celebrating classic Italian staples such as Chicken Parmigiana, Cavatelli Bolognese and Brick Oven Pizzas. Making its way to nearly every table is LAVO's famed one pound meatball, 16 ounces of fresh ground Imperial Wagyu, Italian sausage and veal served with fresh whipped ricotta, which has been featured on The Travel Channel as a must-try dish.
No dinner is complete without a sweet ending, and LAVO has that covered. From the deep-friend Oreo Zeppole with a malted vanilla milkshake for dipping to the skyscraping 20 layer peanut butter chocolate cake with alternating layers of devils food and peanut butter mascarpone, and dessert cocktails and spirits, the after dinner options are plenty.
Taking its design cue from the ancient bathhouses of and a name that means "to wash", LAVO transforms old-world elements of water-stained plaster, brick, marble and wood into modern day opulent elegance. An expansive space that incorporates a lounge, dining room and a outdoor terrace overlooking the Las Vegas Strip, LAVO offers experiential dining ranging from a romantic date night for two to a buzzing gathering of great friends or colleagues.
Location
LAVO
3325 South Las Vegas Blvd
Las Vegas, NV 89109
Hours of Operation
Dinner
Thursday – Sunday 5:30pm-10:30pm
Weekend Brunch – Saturday
11:00am – 3:00pm
Weekend Brunch – Sunday
Sundays – 10:00am- 3:00pm