2022 Las Vegas Veterans Day Weekend Offer
November 11, 2022
This Veterans Day weekend, TAO Group Hospitality wants to salute you for your service. We are proud to announce that we offer two Veterans Day specials for all active military and veterans in honor of your service. We look forward to celebrating your service with you.
RESTAURANT DISCOUNT
VALID THROUGH NOVEMBER 13, 2022
You served us, so now it's our turn to serve you. Ditch those MREs and indulge in a culinary experience as our high-ranking restaurants offer a 20% discount through November 13, 2022, with a valid Military ID for both active military and veterans. Our participating restaurants offer excellent experiences with mouthwatering dishes.
Beauty & Essex, located at The Cosmopolitan of Las Vegas, flaunts a seductive vibe with a pawn-shop-inspired retail entrance and jewelry box-themed dining rooms perfect for a date night. Their signature dishes include Grilled Cheese Smoked Bacon Tomato Soup Dumplings, Tuna Poke Wonton Tacos, and Oven Braised Chicken Meatballs.
If you're looking for a fine-dining experience, try Hakkasan Restaurant at MGM Grand. The Hakkasan brand holds four individual Michelin Stars at both London locations, Dubai, and Abu Dhabi. Their authentic Cantonese cuisine showcases out-of-this-world food such as their signature Crispy Duck Salad and a wide assortment of dim sum.
Are you craving the perfect Italian comfort food? LAVO Italian Restaurant & Lounge at The Palazzo is the ideal destination for delicious Italian fare, paired with hand-crafted cocktails. In a beautiful space, LAVO offers ambient, indoor dining and an expansive outdoor terrace overlooking the Las Vegas Strip.
For an alluring ambiance and a delectable selection of pan-Asian specialties, TAO Asian Bistro at The Venetian Resort offers savory specialties such as Satay of Chilean Sea Bass, Lobster Wontons, Peking Duck, and the unmissable Giant Fortune Cookie dessert.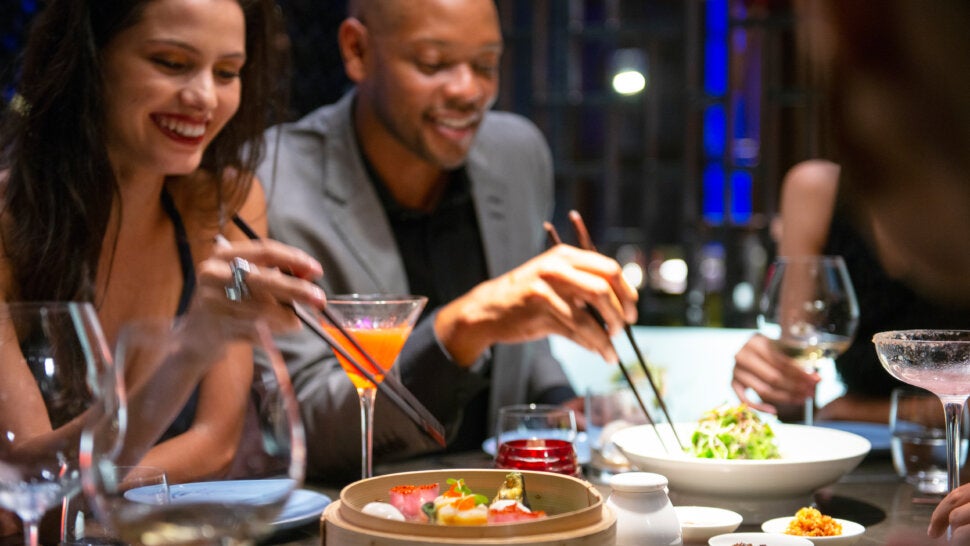 NIGHTCLUB DISCOUNT
VALID THROUGH DECEMBER 30, 2022
Time to go off-post and call your VIP host to receive free club admission for you and a guest through December 30. This Veterans Day offer is valid for all veterans and active duty service members with a valid military ID* (ID can be Military ID, Veterans ID, Veteran Insignia on DL, or DD214). If you don't have a host, no worries, just flash your military ID at the door, and we'll get you in. This Veterans Day offer is valid for all Tao group Hospitality nightclubs, such as OMNIA Nightclub, Hakkasan Nightclub, Jewel Nightclub, Marquee Nightclub, and TAO Nightclub.
Hakkasan Nightclub at MGM Grand has a cutting-edge nightclub design that transports you to a new world underneath the Hakkasan grid. Take advantage of the rare ambient delight that JEWEL Nightclub at ARIA Resort and Casino offers; it must be experienced to be appreciated. Marquee Nightclub at The Cosmopolitan is a destination that brings international entertainment to one multi-level setting venue. With elements of luxury, classic design, modern technology, and an impressive roster of top-notch DJ residencies, OMNIA is another perfect choice. Soak in the high energy that radiates from TAO Nightclub at The Venetian Resort Las Vegas, with three full-service bars, two main rooms playing a variety of music genres, and state-of-the-art audio and lighting systems. May we salute your service and dance moves as we celebrate this Veterans Day weekend.