Introducing the LOUIS XIII Cognac x Hakkasan Sweet Caviar Dessert Pairing
May 3, 2023
Two influential players in exceptional cuisine and spirits, LOUIS XIII and Hakkasan, have co-acted to launch a contemporary dessert pairing that features an elegant display of caviar-style passion fruit matched with LOUIS XIII Cognac. The Sweet Caviar Dessert Pairing is set to launch globally on May 8, exclusive to 9 Hakkasan locations – including Las Vegas, Miami, London Mayfair, London Hanway Place, Dubai, Doha, Abu Dhabi, Shanghai, and Bodrum.
Tao Group Hospitality Global Pastry Chef Romain Cornu, alongside LOUIS XIII Cellar Master Baptiste Loiseau, collaborated amongst additional members of Hakkasan and Rémy Cointreau to delicately conceive an exceptional pairing, aimed to exceed the desires of their global clients.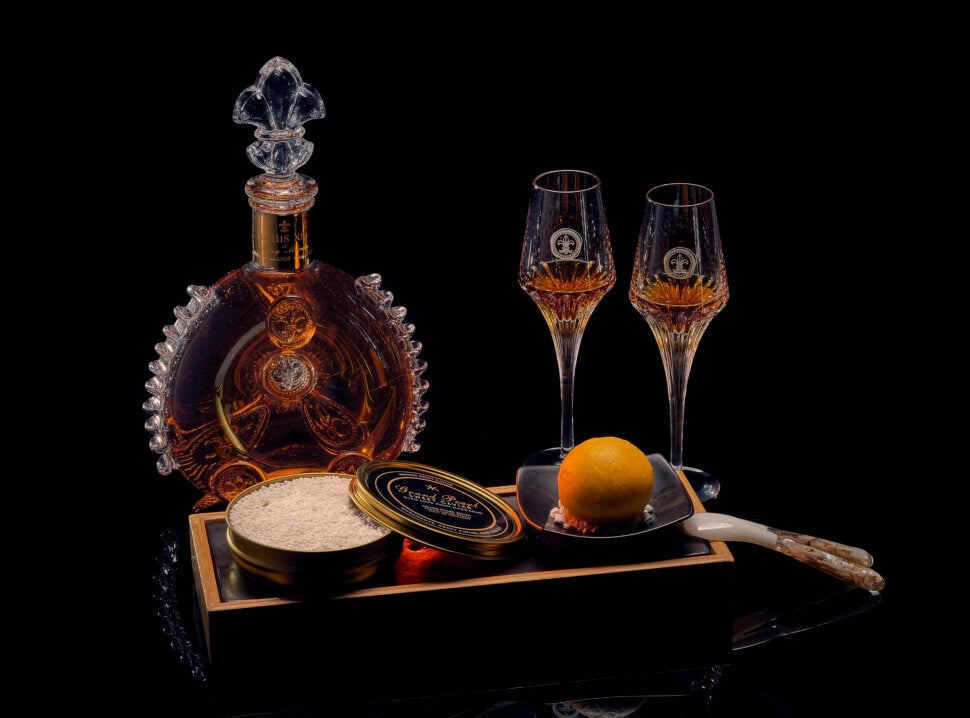 "We're incredibly excited for the world to taste this dessert. The Sweet Caviar dessert is pure extravagance, making it the perfect match for the legendary LOUIS XIII." says Chef Romain Cornu. The Sweet Caviar Dessert Pairing is served in a traditional caviar tin, featuring multiple layers of passion fruit cake, passion fruit marmalade with poached pineapple, coconut bavaroise, and coconut feuilletine, topped with caviar-resembling coconut pearls. The dish is accompanied by a mango and passion fruit sorbet, alongside a Perfect Pour set featuring LOUIS XIII Cognac.
"Such a perfect pairing that it is difficult to perceive which of LOUIS XIII or the dessert comes to sublimate the other. Elegance, Finesse and Harmony are combined in an explosion of freshness that awakens and elevates both sight and taste." states LOUIS XIII Cellar Master Baptiste Loiseau.
The Sweet Caviar Dessert Pairing presents the "Sweet Caviar" dessert with two crystal glasses that each flourish with a single ounce of LOUIS XIII Cognac. The pairing is served with two mother-of-pearl spoons in an exquisite display of refined dessert.
Native to London, Hakkasan is the leader in Michelin-starred modern Chinese cuisine with 11 restaurant locations worldwide and growing. Presenting a menu of modern and ancient Cantonese flavors, their elegant cuisine is enjoyed with the world's most elevated spirits, with LOUIS XIII Cognac remaining a favorite amongst Hakkasan's clientele.