Daniel Popper Explains the Tendai
April 19, 2022
LAS VEGAS (April 19, 2022) – South African installation artist and sculptor, Daniel Popper, welcomes guests to TAO Beach Dayclub with his TAO Goddess creation, known as Tendai. Placed in front of the temple bar, Tendai greets and blesses all guests, as her deity was created for those to give thanks and to feel a sense of gratitude for their lives. Tendai originates from the female name meaning "give thanks to God" in Zimbabwean. Additionally, Tendai is the name of one of the first Japanese Schools of Buddhism, which set out to make Buddhism universal.
Tendai weighs about 8,000 pounds, stands 15 feet tall, crafted of glass, fiber, reinforced concrete, and fiberglass with a steel sub-frame. Guests are encouraged to interact and stand between her hands, as she overlooks the pool.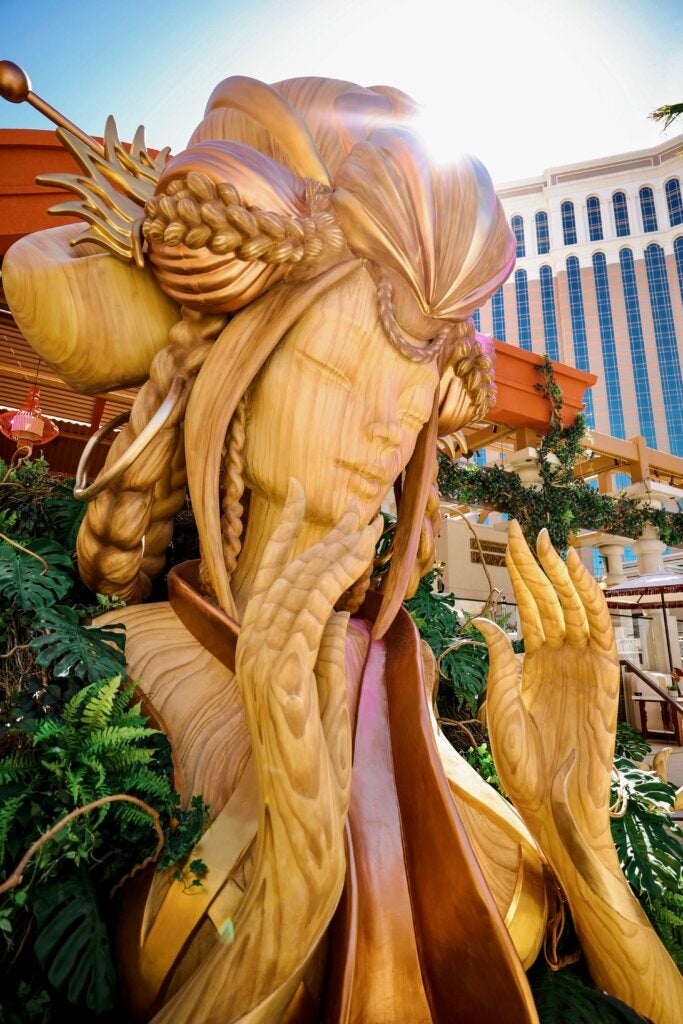 Popper also designed a pair of hands as an entry piece to TAO Beach. Guests are greeted by these magnificent hands once they reach the top of the escalator, incited for guests to sit inside the hands to capture the picture-perfect moment. The pair of hands embodies parts of a mosaic design, with mandala designs in the palms.
Inspired by nature and great installation artists, Popper has been creating large-scale installation art and sculptures for 10-15 years. Popper feels there is a synergy between Tao Group Hospitality and his vision, creating the perfect partnership to elevate the venue's overall experience.