CHAMPAGNE BRUNCH
From Fall to Spring, LAVO's famed Champagne Brunch provides the ultimate daylife experience. Originating at our sister location in New York City, TAO Group pioneered the wild afternoon affair. This signature event features an indulgent food menu, an expansive selection of Champagne and a variety of large format bottles, with music to keep the vibe going from resident DJs and Special Guests. Beginning with an immersive restaurant atmosphere, the room then seamlessly transitions into a wild bottle-popping presentations, including an array of characters that aren't your usual suspects. Partygoers let loose and dance the day away, either enjoying a Mainroom experience or living it up on LAVO's Terrace, which presents one of the best views of The Strip!
Still can't picture it? You'll just have to SEE FOR YOURSELF…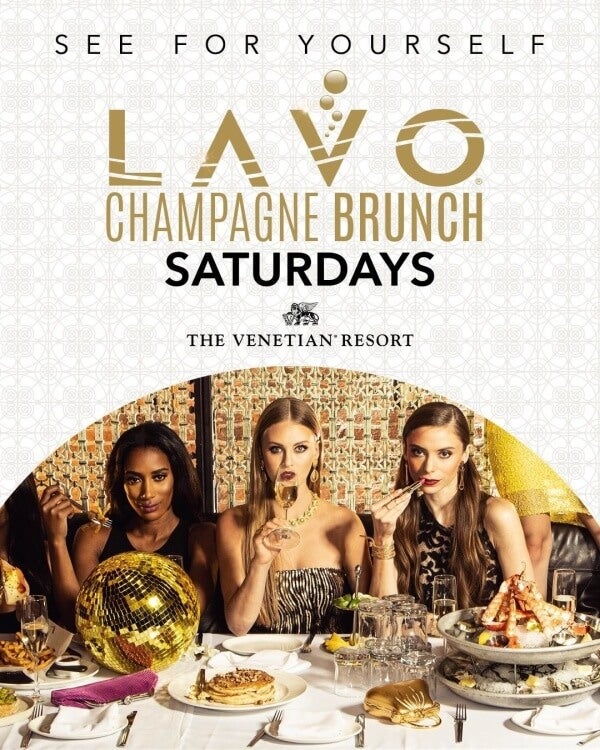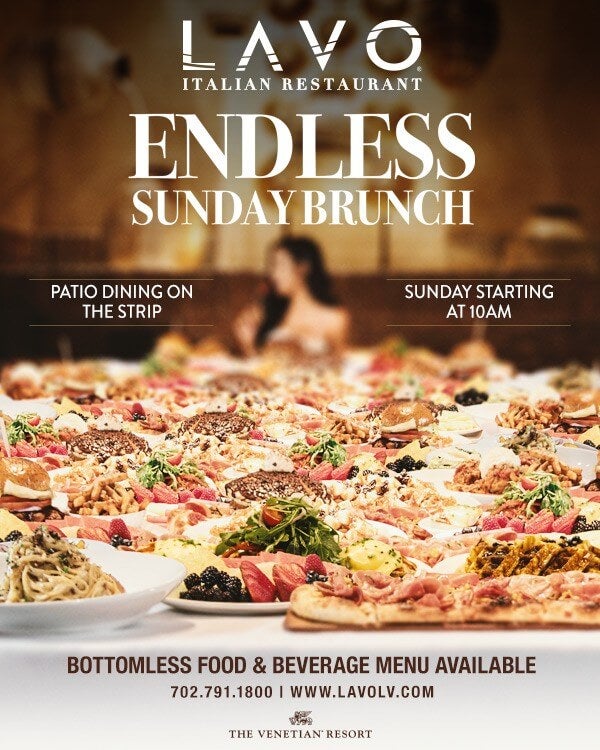 ENDLESS BRUNCH
LAVO Italian Restaurant & Lounge offers a weekend brunch featuring an endless offering of signature dishes from Chef Partner Ralph Scamardella and Executive Chef Frank Cervantes. The eatery, which pioneered the Las Vegas Strip's famed Champagne party brunch, which runs from fall to spring, once again puts a new spin on the classic Sunday meal.
A decadent dining experience filled with unlimited options, live chef stations and bottomless cocktails, LAVO's endless brunch offers an all-inclusive menu along with premium add-on selections for the perfect mix and match meal enjoyed in the restaurant or the expansive patio along The Strip.
A made-to-order pasta station is highlighted by Fettuccine with Lobster and Truffle, prepared in a Parmigiano wheel, while a bespoke egg station serves up eggs your way ala minute all served table side.  The Endless menu also features antipasti and raw bar offerings, along with a breakfast-centered station and a full selection of artisanal house-made pastries, cakes and more, with a decadent Cointreau Noir chocolate fountain taking center stage for a sweet finish.
Location
Lavo
3325 South Las Vegas Blvd
Las Vegas, NV 89109
Hours of Operation
Dinner
• Thursday, Friday 5:30PM-10:30PM
• Saturday 7:00PM – 10:30PM
• Sunday 5:30PM – Late
LAVO Champagne Brunch
Saturdays 12:30pm-6:00pm
LAVO Endless Brunch
Sundays 10am-3pm
LAVO Dolce Sunday Supper Club
Sundays 10pm-late
Indoor / Outdoor dining available
*Thanksgiving will be open 3pm – 10pm