Menu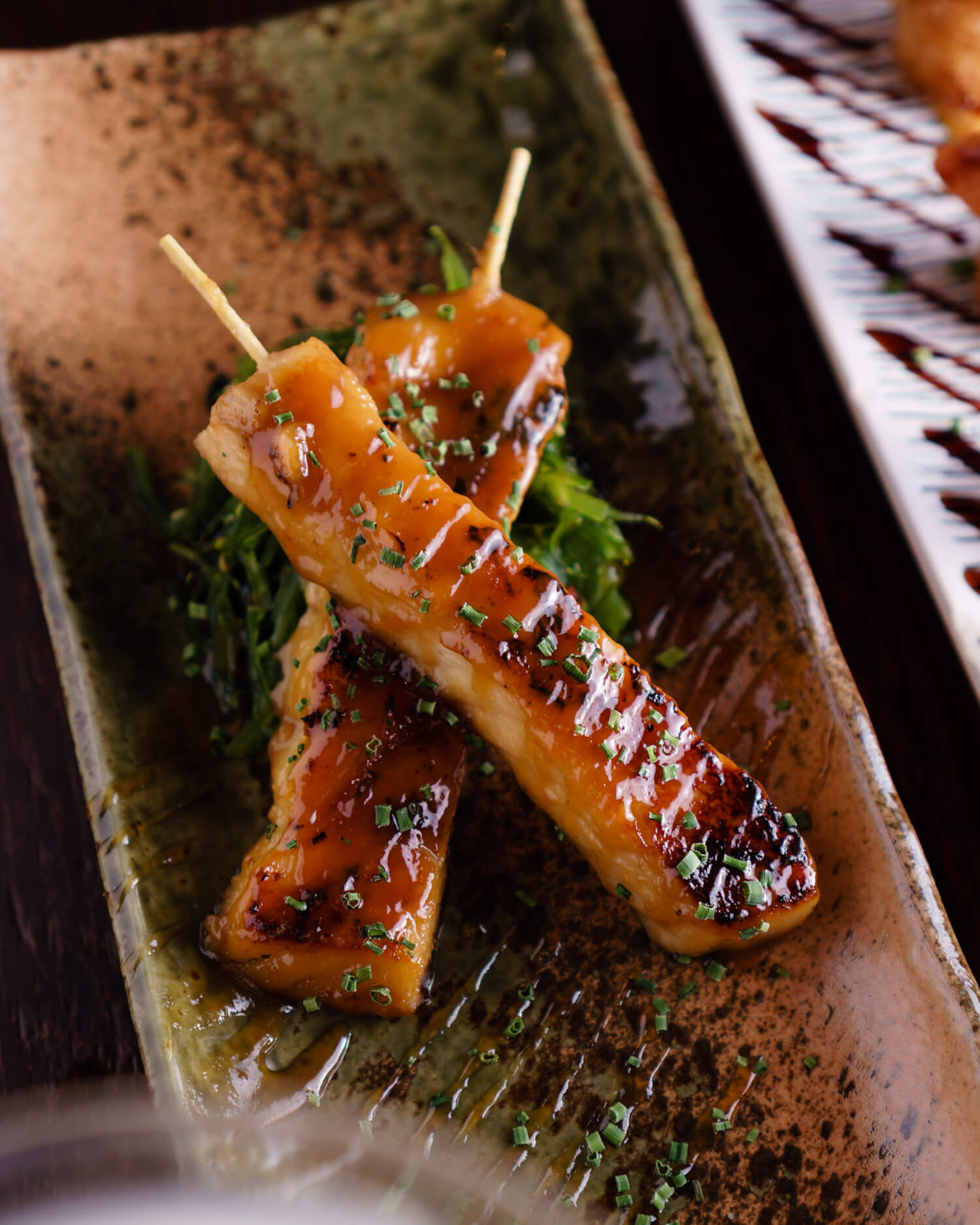 Small Plates
*Denotes Gluten Free
Hot Edamame*
15
maldon sea salt
Shishito Peppers
15
yuzu, sesame
TAO Temple Salad
17
asian greens, soy vinaigrette
Chicken Satay
19
mango papaya salad, peanut dipping sauce
Spicy Tuna Tartare On Crispy Rice*
25
spicy mayonnaise, kabayaki sauce
Thai Chicken Lettuce Cups
26
chilis, thai basil, crispy garlic, fried egg
Sizzling Soy Chicken
26
chicken thigh, sweet peppers, Tokyo negi
Satay Of Chilean Sea Bass
28
miso glaze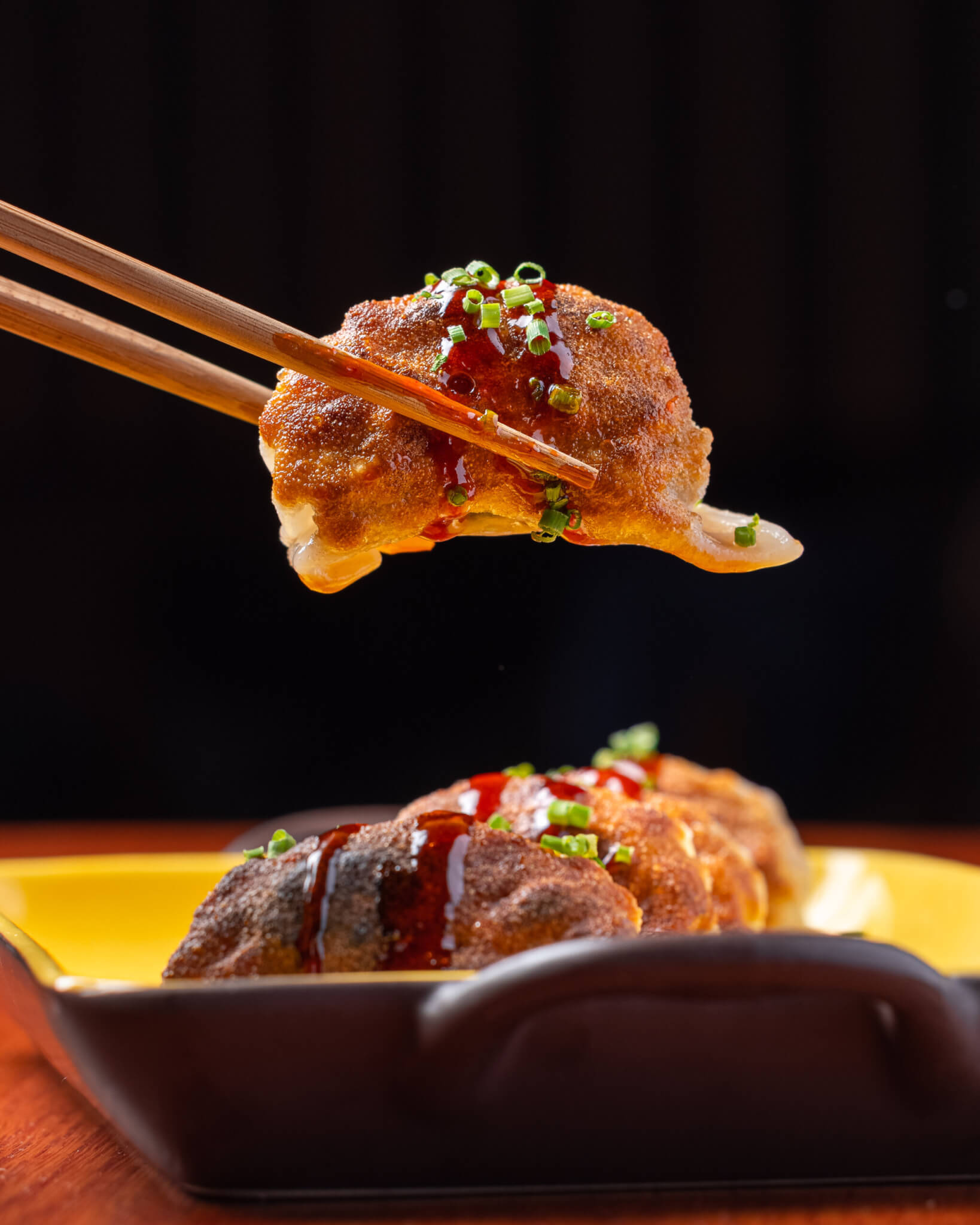 Dim Sum
Imperial Vegetable Egg Roll
19
wild mushroom, cabbage, snow peas
Chicken Gyoza
19
pan fried or steamed, chili garlic sauce
Chicken Mushroom Siu Mai
20
house spicy sauce
Pork Potstickers
20
chili sesame glaze
Shrimp Har Gow
22
house spicy sauce, master oil
Bamboo Steamed Vegetable Dumpling
22
ginger oil, scallion dipping sauce
Chicken Wing Lollipops
24
thai basil, sweet and sour, peanuts
Lobster Wontons
27
shiitake ginger broth
Caviar King Crab Dumpling
38
house spicy sauce, oscietra caviar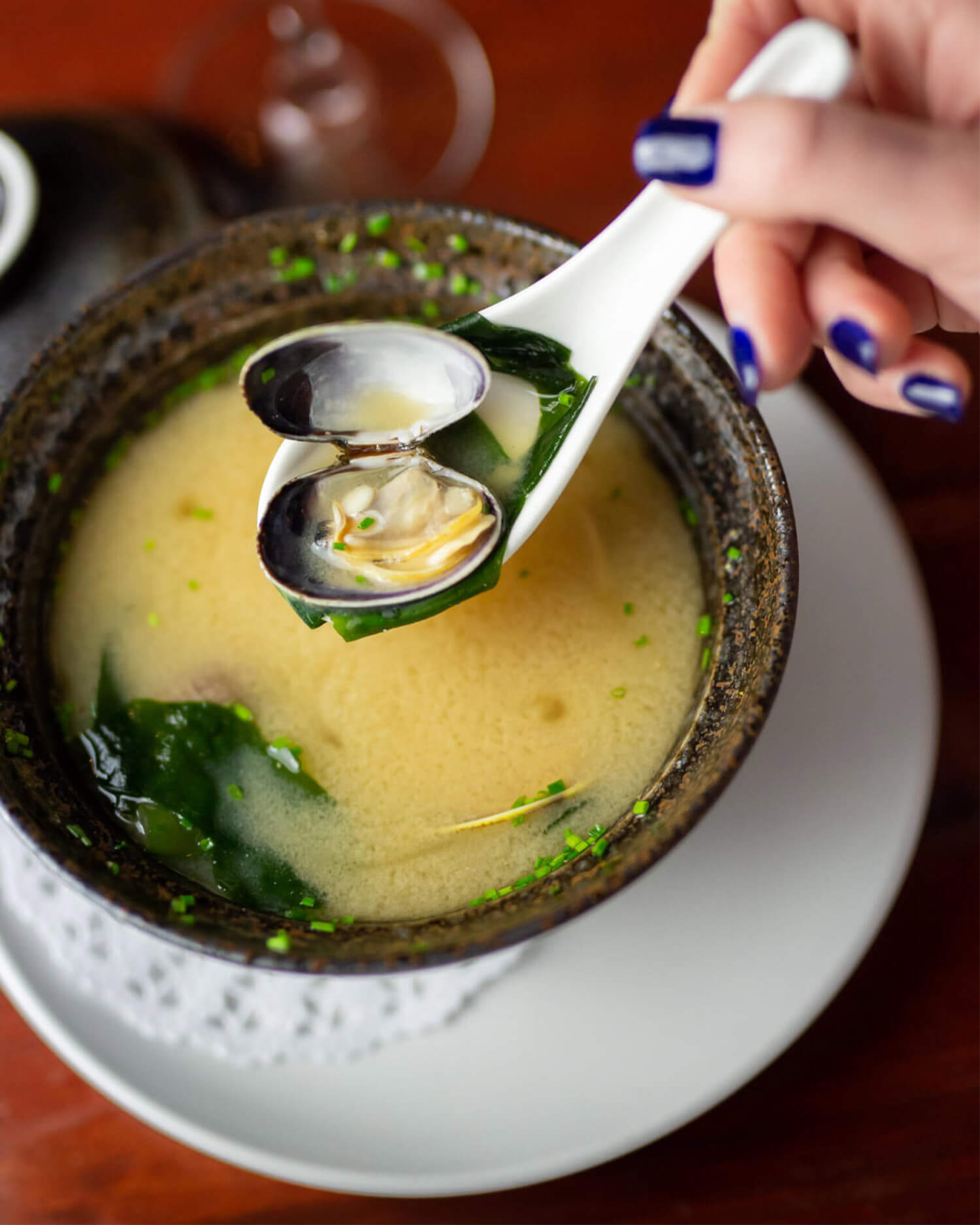 Soups
Miso With Tofu and Manila Clams
13
Hot and Sour Soup with Shrimp Toast
13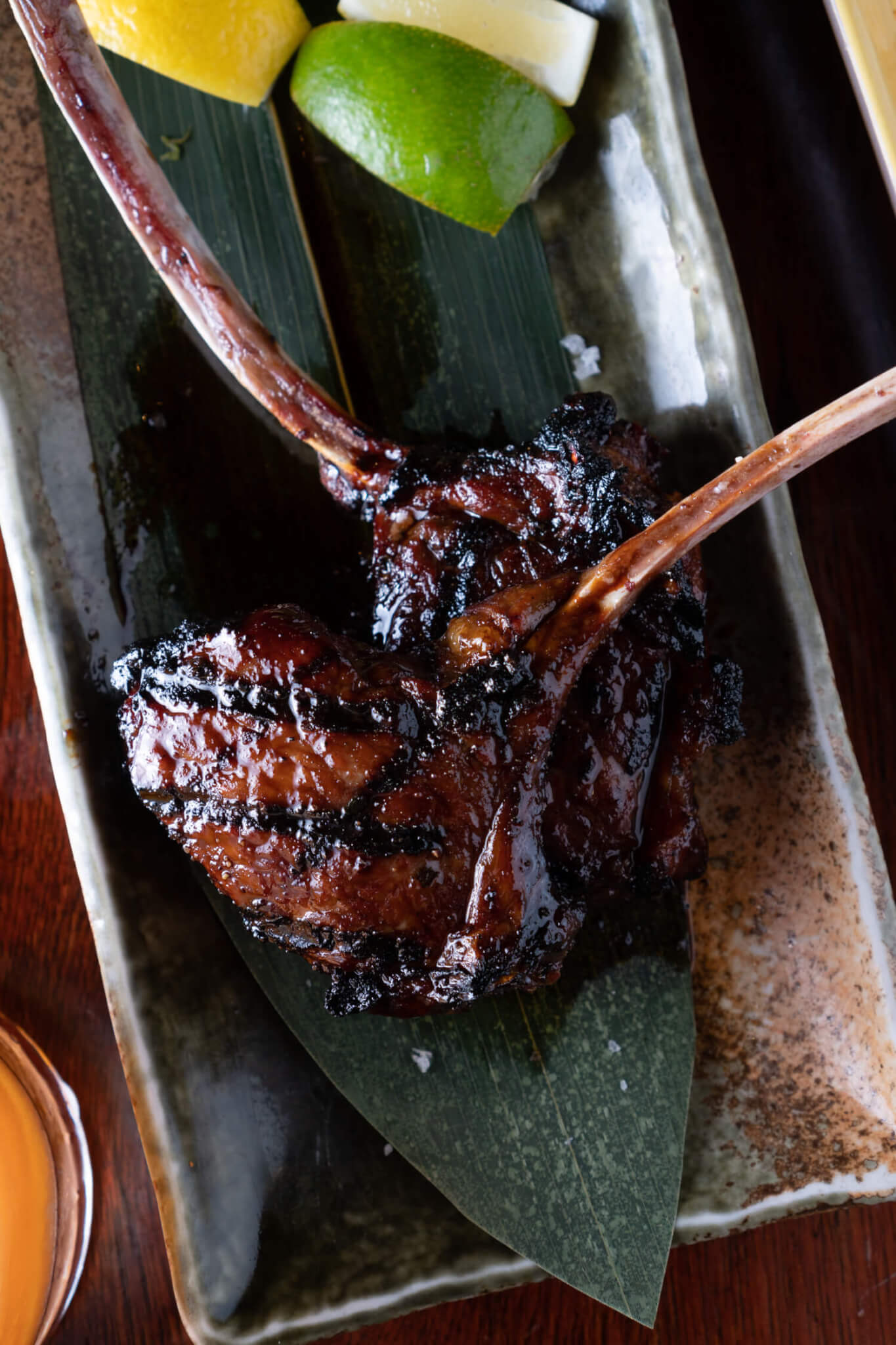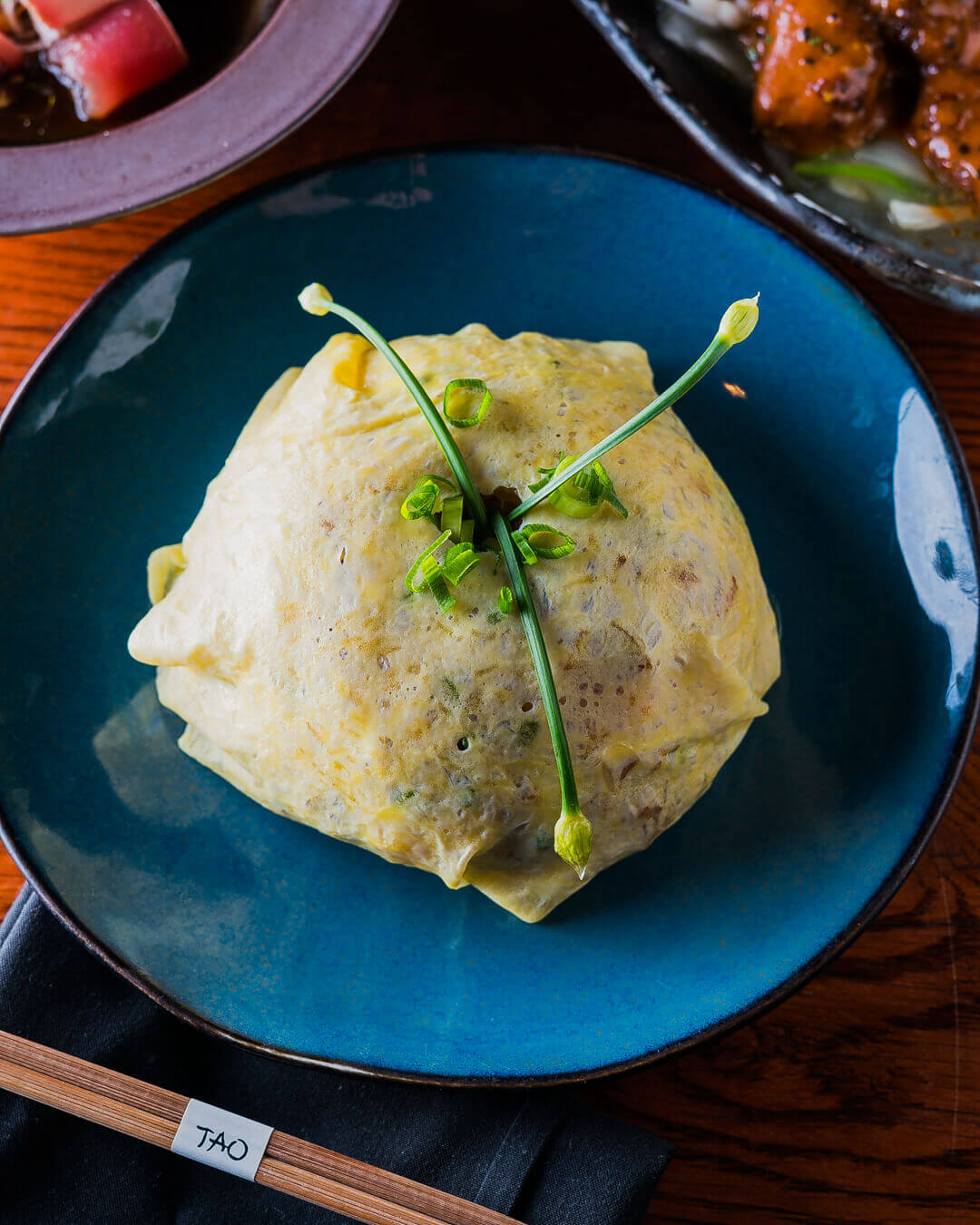 Noodles and Rice
Jasmine White or Brown Rice
9
BBQ Pork Lo Mein
22
roast pork, choy sum
8 Greens Fried Rice
22
brown rice, seasonal vegetables, egg white
Olive Fried Rice
23
olive leaf, french green beans, egg
Chow Fun
24
stir fried vegetables and tofu
Pad Thai Noodles
24/26/29
peanuts, mushrooms, tofu add chicken or shrimp
Triple Pork Fried Rice
25
pork belly, bbq roast pork, chinese sausage
Barbeque Duck Fried Rice
26
sundried tomatoes, kaffir lime, mint
Shanghai Fried Rice
27
vegetables, shrimp, pork, egg
Hong Kong Fried Noodles
28
chicken, egg, mixed vegetables, roast pork
Lobster Fried Rice
36
kimchi, shallots
Drunken Lobster Pad Thai
38
brandy, cashews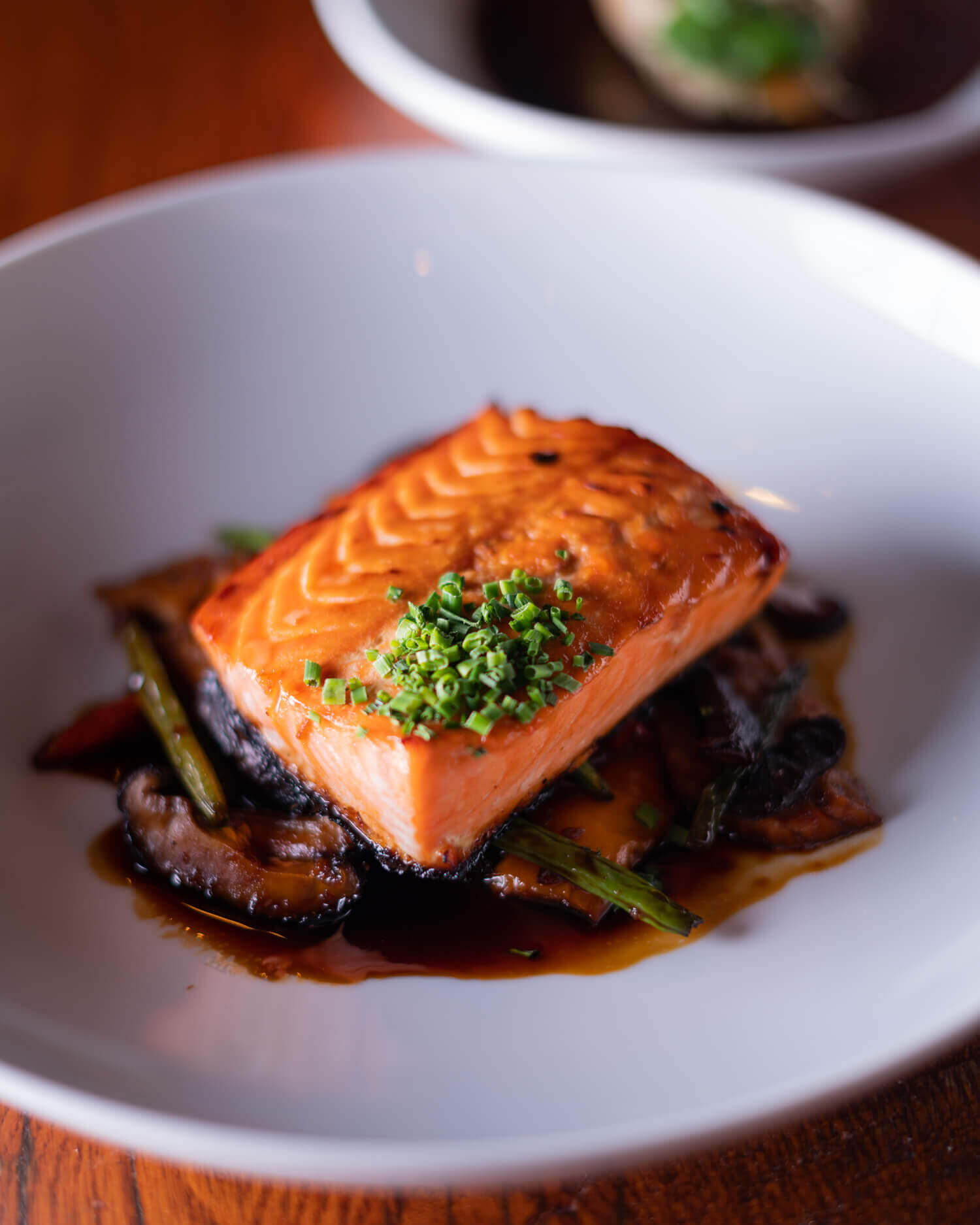 The Sea
Honey Glazed Salmon
38
lotus root, green beans, baby sweet peppers
Thai Sweet & Spicy Shrimp
39
tamarind, bell pepper
Grilled Branzino
42
steamed bok choy, ginger kaffir lime vinaigrette
Grilled Ahi Tuna
46
maitake mushrooms, snow peas, ginger-scallion sauce
Miso Roasted Black Cod
48
grilled tokyo negi, young ginger
Crispy Snapper In "Sand"
58
toasted garlic, dried chinese olive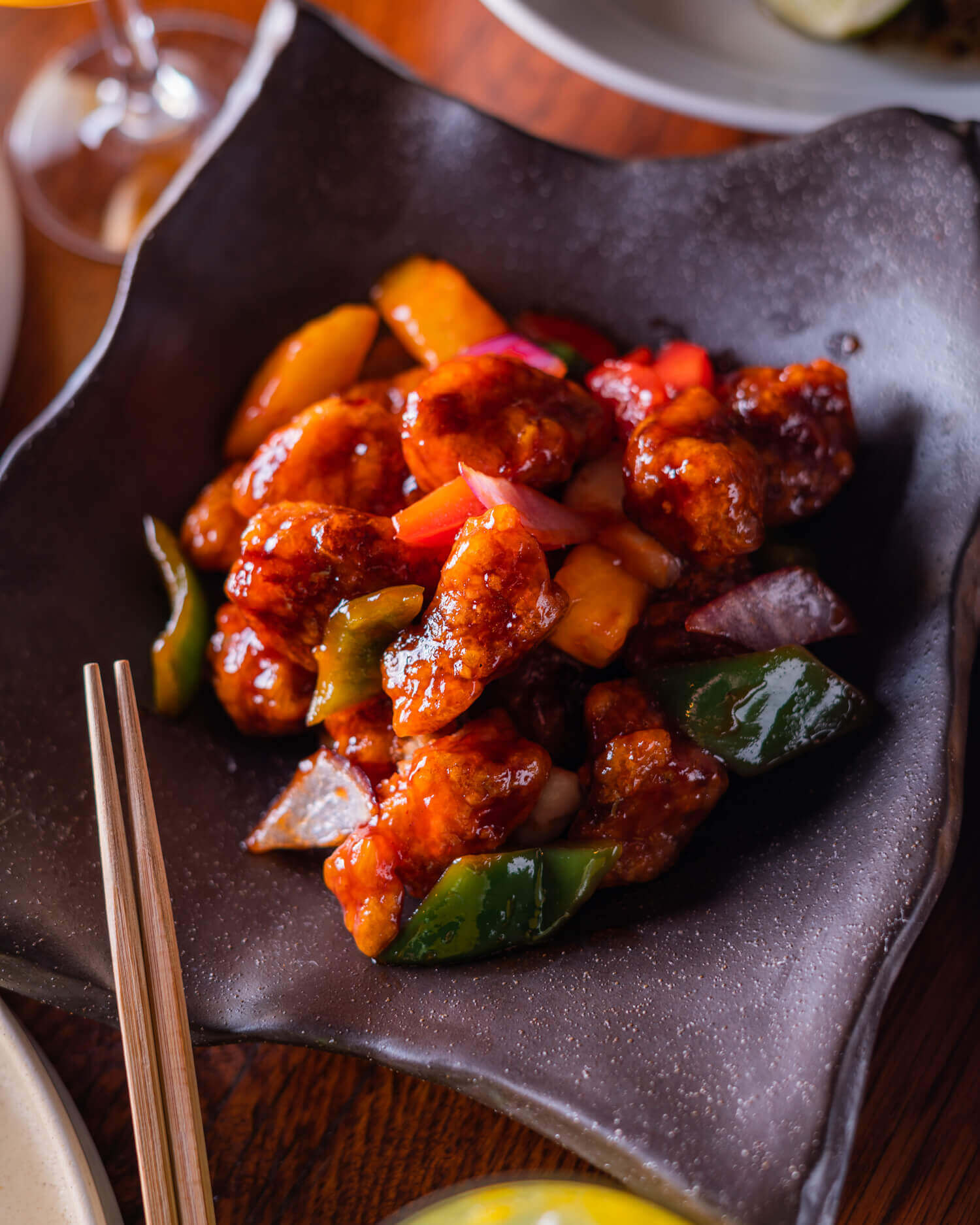 The Land
Beef Mongolian
52
snow peas, shimeji mushrooms
Filet Mignon "Tokyo" Style
59
marrow, mushroom, onion
Beef & Broccoli
79
aged NY strip, black bean sauce
Wagyu Ribeye Teppanyaki
98
sophisticated dips and sauces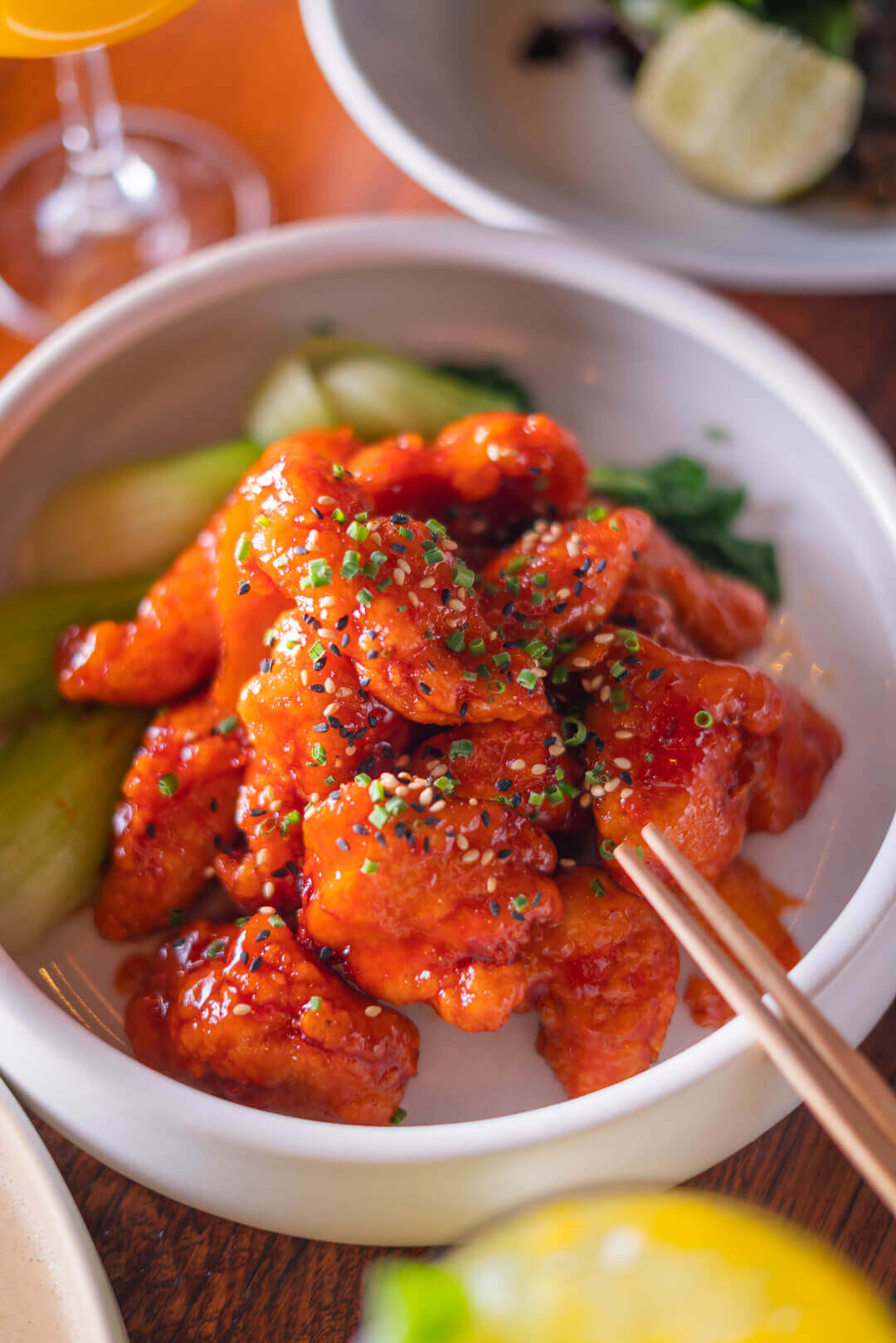 The Sky
Black Pepper Chili Chicken
36
pepper, onion, bamboo shoot, celery
Crispy Orange Chicken
37
steamed bok choy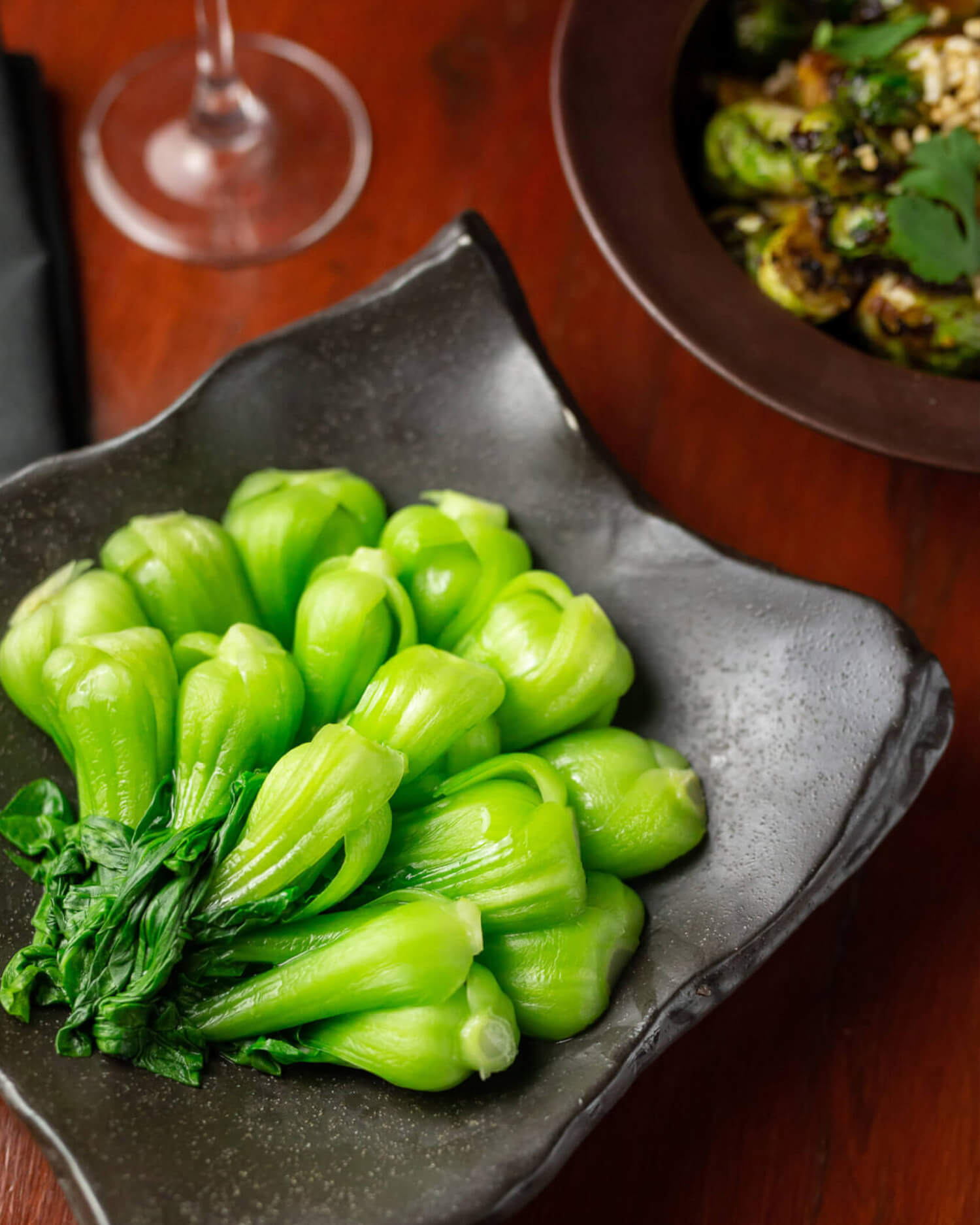 The Sides
Asian Green Stir Fry
15
pea shoots, chinese broccoli leaves
Steamed Bok Choy
15
garlic sauce
Chinese Broccoli
15
black bean sauce
Charred Brussels Sprouts
16
cilantro lime vinaigrette, puffed rice
Spicy Eggplant
16
togarashi yogurt, curry, soybean chili
Cantonese Cauliflower
18
sweet and sour sauce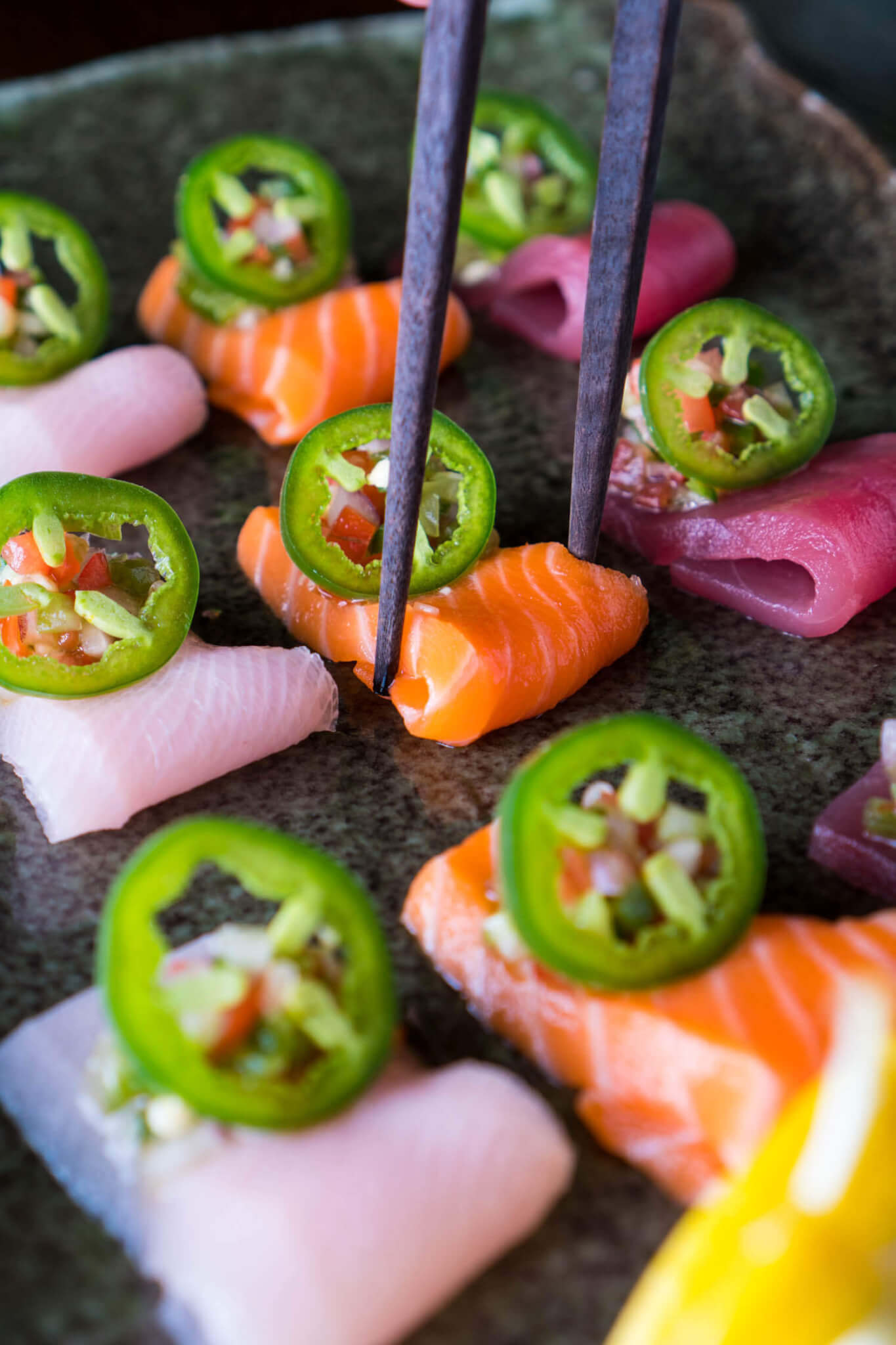 Sushi & Sashimi
Botan Ebi*
11
sweet prawn
Kani
16
alaskan king crab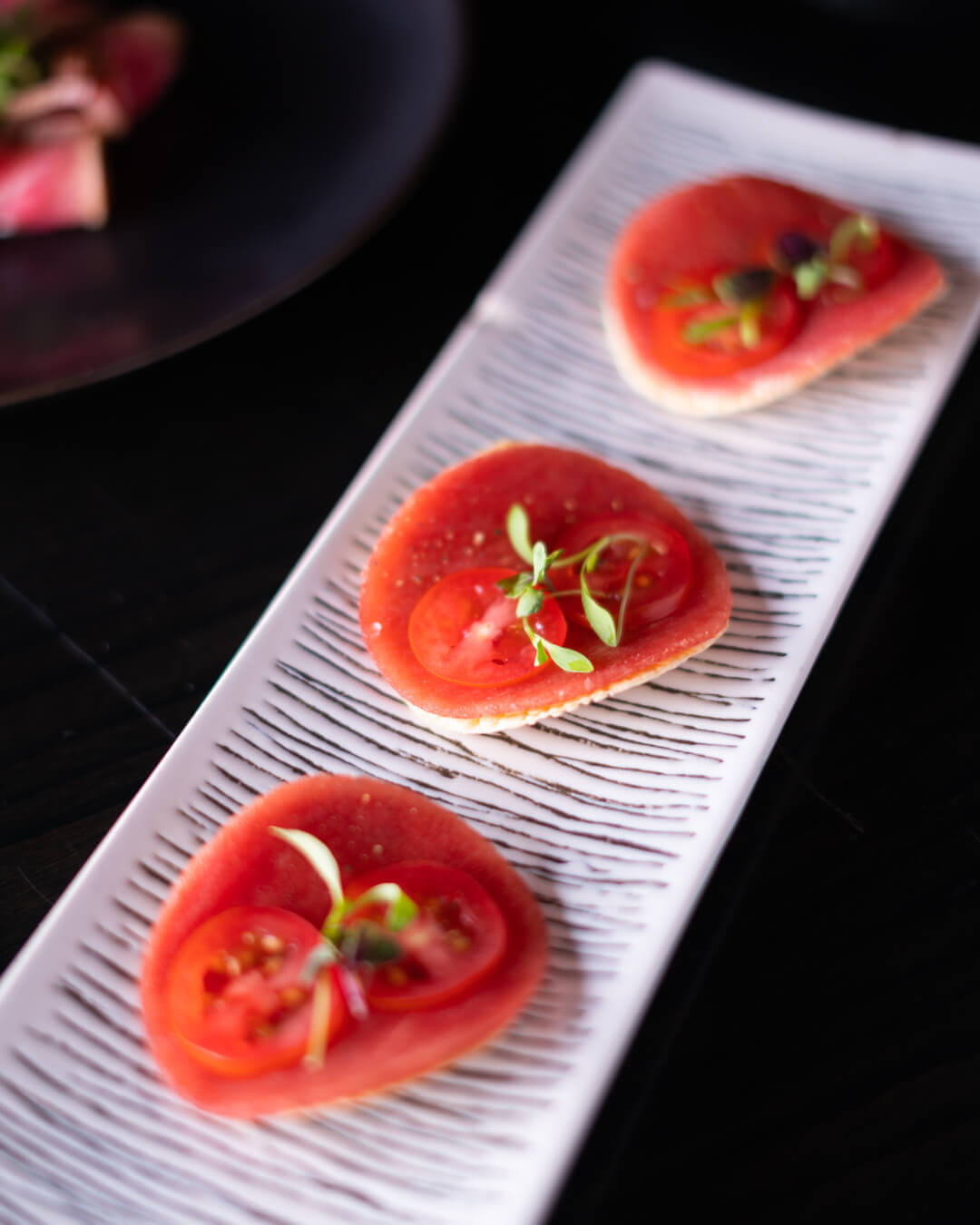 Specialties
Fresh Oyster*
8 each
ponzu mignonette
Seared Salmon Sashimi*
24
jalapeño, sweet miso
Albacore Poke Tacos*
23
soy vinaigrette, spicy sour cream
Yellowtail Sashimi*
24
jalapeño, ponzu sauce
Tuna Pringles*
24
truffle aioli, egg, tomato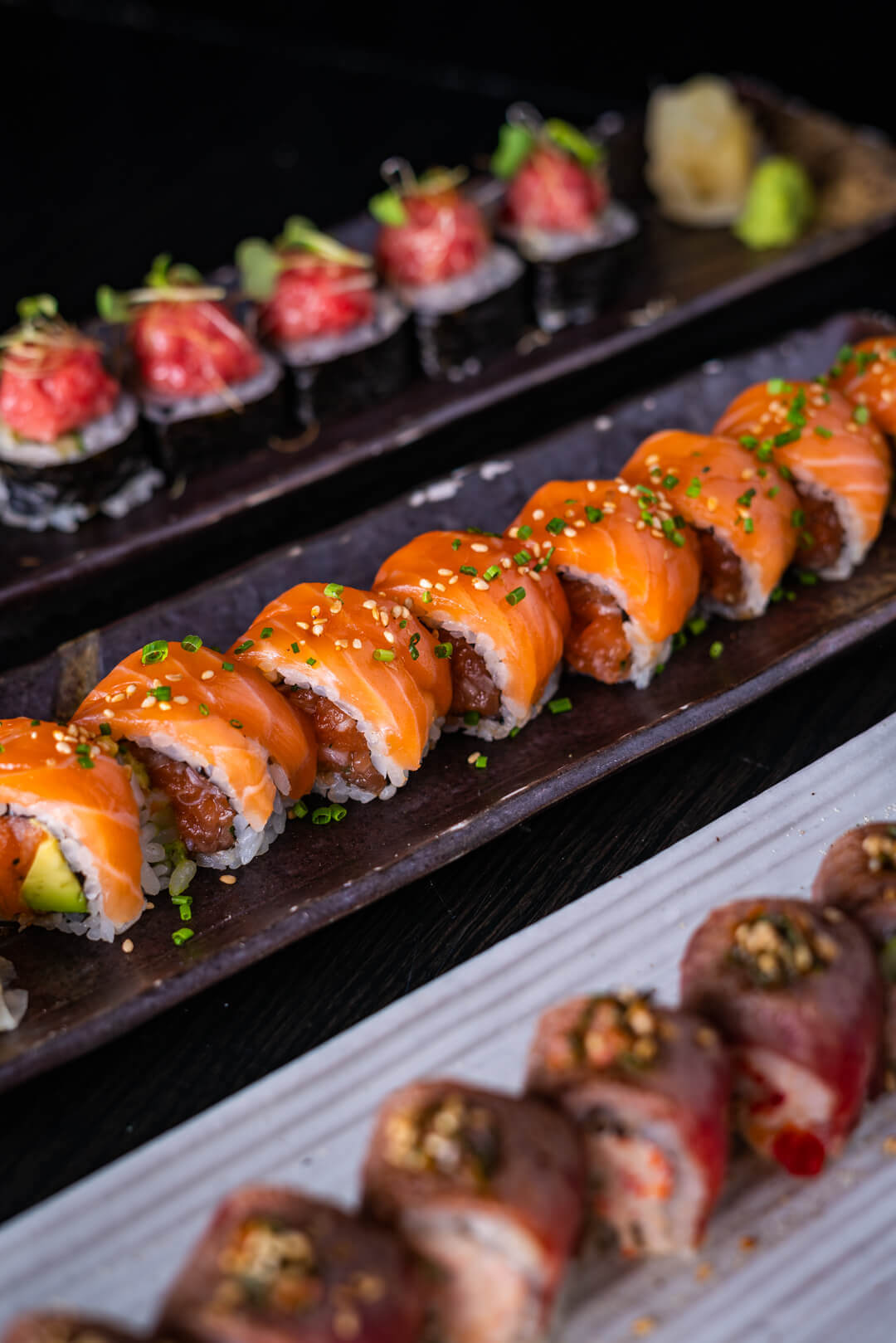 Specialty Rolls
Vegetable
21
eight treasure vegetables, soy paper
Crunchy Spicy Yellowtail*
23
crushed onion
Spicy Tuna and Crispy Rice*
23
mango salsa
Angry Dragon
23
eel, kabayaki sauce
Salmon Avocado*
24
salmon tartare, tomato ponzu
Shrimp Tempura
25
wasabi honey sauce
Chef*
26
salmon, yellow fin tuna, avocado, aji amarillo, kabayaki sauce
Crispy Lobster
27
lobster tempura, chipotle sauce
Surf and Turf*
29
lobster salad, american wagyu beef, cucumber, sesame chimichurri sauce, yuzu kasha aioli
Rainbow*
38
lobster salad, sweet butter aioli, caviar
Tea Menu
4.50
keenum
Lots of body with a bakery flavor, holds well with milk and sugar
panyang congou
Mellow tea that is round in the mouth with lots of staying powe
lapsang souchong
Milded bodied with a very strong smokey flavor (the large leaves are actually smoked over pine) goes well with spicy foods
tao hong cha blend
Our exquisite blend with hints of soothing chamomile and lavender
ti quan yin
Intense aroma, depth and fruitiness- ranked as one of the most famous teas in China
fancy formosa oolong
Abundant in flavor and aroma, absolutely no astringency with a hint of sweetness
hong tao
Peachy flavor, goes well with dessert
tao moli huacha
Special TAO blend, perfect jasmine with a hint of rose
sencha
Shiny needlelike tea leaves that yield a slighty grassy, clean refreshing brew, the most popular tea in Japan
gunpowder
Green pellets of rolled tea leaves that produces a pleasant smokey flavor
genmaicha
A Japanese gift to the world! Bancha tea blended with rice kernels some of which have burst open lending to it's unique roasted flavor
tao lu cha blend
This TAO exclusive Chinese green tea blend is the most delightful way to introduce yourself to green tea with hints of citrus, orange and cornflower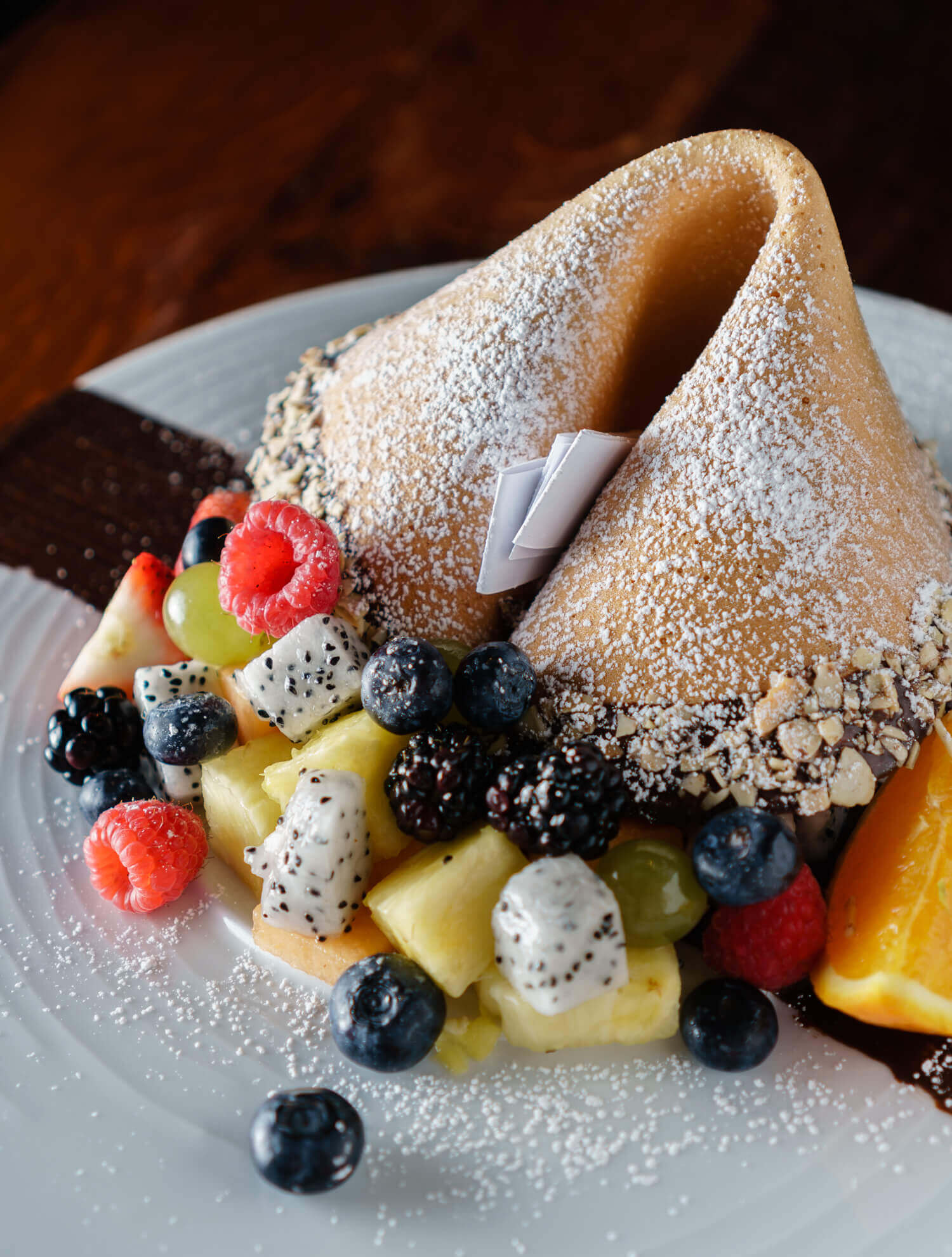 Desserts
Ice Creams and Sorbets
13
assorted seasonal flavors
Bread Pudding Doughnuts
14
brandy ice cream
Banana Pudding
15
tempura banana and fortune cookie crust
Molten Chocolate Cake
17
salted caramel gelato, cherry sauce
Mochi Tasting
17
assorted flavors
Fruit Plate
18
seasonal selections
A Gift Box of TAO Chocolate Buddhas
19
six assorted white, milk and dark chocolates
Giant Fortune Cookie
21
white and dark chocolate mousse
Dessert Platter
45
chef's selection of sweets
Dessert Wine
Inniskillin, Vidal Blanc
18
Port
Taylor Fladgate 20 Year
18
Taylor Fladgate 40 Year
40
Single Malt Scotch
Glenlivet 12 Year, Speyside
16
The Dalmore 15 Year, Highland
29
Glenlivet 18 Year, Speyside
35
Auchentoshan 21 Year, Lowland
40
Whiskey
Suntory 'Toki', Japanese
16
Buffalo Trace, Bourbon
16
Basil Hayden's, Bourbon
17
Cognac
Rémy Martin Louis XIII
5oz 130 / 1oz 250 / 1.5oz 375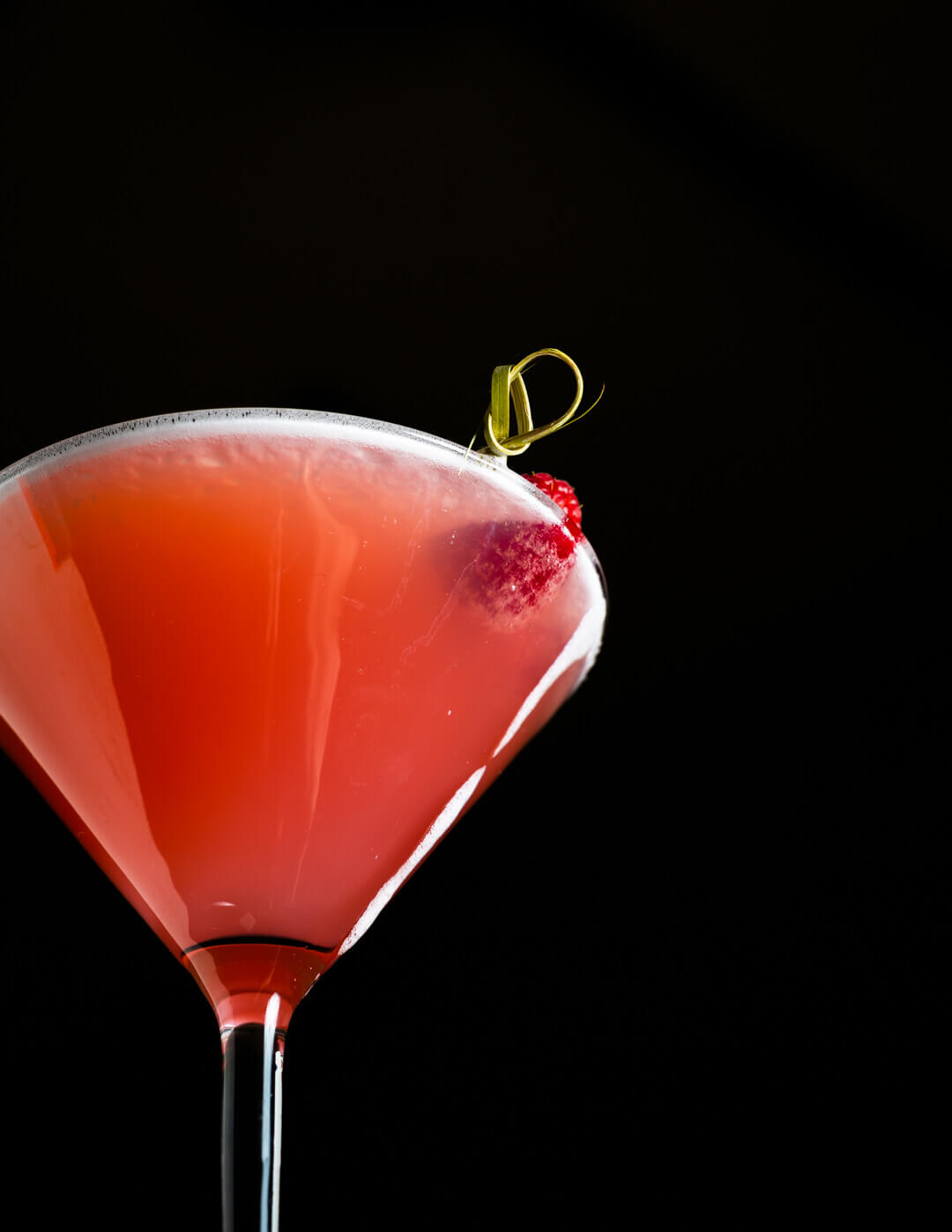 SPECIALTY COCKTAILS
Bubbles & Berries
25
Grey Goose Vodka, Chandon Sparkling Wine, St. Germain, Strawberries
Cucumber Sparkler
17
Cucumber infused The Botanist Gin, Sparkling Wine, Cold Pressed Lime Juice, Organic Agave, Essential Mint Oil
Mango Chili Martini
19
Herradura Blanco Tequila, St. Germain, House Spiced Mango Purée
Watermelon Mint Lemonade
19
Haku Vodka, Cold Pressed Watermelon & Citrus Juice, Essential Mint Oil
Tongue Thai'd
19
Tres Generaciones Blanco Tequila, Giffard Peche de Vigne, Thai Chili and Cilantro Nectar, Cold Pressed Lemon Juice
Lychee Martini
20
Absolut Elyx Vodka, St. Germain, Japanese Lychee Infused Nectar
TAO-tini
19
New Amsterdam Mango Vodka, Malibu Rum, Cranberry, Cold Pressed Lime Juice
Ruby Red Dragon
19
Ketel One Grapefruit Rose Botanical Vodka, Yuzu Citrus, Hint of Pomegranate
Nirvana
21
Patrón Silver Tequila, Passion Fruit Purée, Ginger & Cold Pressed Lime Juice, Chili Pepper, Red Bull Tropical Edition
BEER
Lagunitas India Pale Ale
9
USA
Heineken 0.0 N/A
9
Holland
Coedo India Pale Lager
12
Japan
Coedo Hefeweizen
12
Japan
VIRGIN COCKTAILS
Zhen Bang
12
Fresh Raspberries, Cold Pressed Lime, Sparkling Water
Red Shen
12
Pomegranate, Cold Pressed Lime, Orange, Pineapple and Bajan Spices, Sparkling Water
Lajiao Cucumber Buck
12
Cold Pressed Lemon & Lime, Cucumber Water Habanero, Ginger Beer
SPARKLING
Wines by the Glass
Taittinger
21
'La Franchise', Reims, France, NV
WHITE
Wines by the Glass
Pinot Grigio
15
Bollini, Trentino, Italy, 2018
Chardonnay
16
Laguna, Russian River Valley, California 2017
Riesling
16
Jean-Baptiste Adam, 'Les Natures', Alsace, France, 2017
Sauvignon Blanc
21
Orin Swift, 'Blank Stare' Russian River Valley, Sonoma, California, 2018
Chardonnay
26
Cakebread, Napa Valley, California, 2018
ROSÉ
Wines by the Glass
Grenache
15
Domaine La Colombette, 'Notorious Pink', Languedoc-Roussillon, France, 2018
RED
Wines by the Glass
Malbec
15
Terrazas, Mendoza, Argentina, 2018
Merlot
15
St. Francis, Sonoma County, California, 2016
Pinot Noir
17
J Vineyard, California, 2017
Cabernet Sauvignon
21
Louis M. Martini, Napa Valley, California, 2016
SAKE BOMBS
Featured Bomb
16
House Sake Red Bull Original, Sugar Free or Tropical Edition
The Original
16
House Sake Kirin Light Lager
SAKE - EARTH
Notes of Earth, Nuts and Umami - 5 oz / 10 oz / 720ml / 1.8L Bottle
TAO House Sake
12/24
Enjoy hot or cold.
Typhoon - Tozai Futsuu-shuu, Kyoto
40/95
Soft notes of umami with a slight citrus finish.
Bride of Fox - Kanbara Junmai Ginjo, Niigata
80/160
Great notes of earth and nuts with a slight key-lime note on the finish.
Forgotten Fortune - Fukucho Junmai, Hiroshima Fukui
84
Scrumptious layers of Umami, malty-rice with a citrus and quince finish.
Sookuu - Enter Junmai, Kyoto
90
Layers of Umami, malty notes with a subtle vanilla finish.
The Seven Spearsmen - Shichi Hon Yari Shizuku Junmai Daiginjo, Shiga
175
One of the oldest breweries in Japan, 1541. Citrus and a clean finish.
SAKE - TRANQUIL
Light, Clean and Water-like - 5 oz / 10 oz / 720ml / 1.8L Bottle
Beautiful Lily - Yuri Masamune Honjozo, Akita
51/110
Round, dry notes with an aromatic nose of fruit and blossoms.
Black Dot - Enter Sake Honjozo, Aichi
60
Clean and soft, hints of mountain flowers on the nose with fruit structure throughout.
Well of Wisdom - Tozai Ginjo, Kyoto
60
Light, clean mouthfeel with subdued notes of stone-fruit.
SOTO - Junmai, Niigata
15/30/65
Light grainy notes with a fruity finish
HEAVENSAKE - Turquoise Bottle Junmai Ginjo, Miyagi
120
Superb clarity, like spring water, delicate citrus with a twist of exotic fruit.
SAKE - ETERNAL
Exotic Flavors - 5 oz / 10 oz / 720ml / 1.8L Bottle
Cloud - Rock Sake Nigori - Forest Grove, Oregon
70
Rice from Northern California and spring water from Oregon. Fresh aroma with hints of rock melon and coconut.
Joto - Nigori, Hiroshima
14/28/80/150
Earthy balance, coconutty fruit notes.
Snow Maiden - Tozai Nigori, Kyoto
65
Great fruit structure with an off-dry finish. Great with food.
SAKE - SPIRIT
Notes of fruits and blossoms - 5 oz / 10 oz / 720ml / 1.8L Bottle
Pacific Ocean - Taiheikai Tokubetsu Junmai, Ibaraki
80
Bright and lively with fruit and a great Riesling -like nose.
Shuhari - Enter Sake Junmai Daiginjo, Kyoto
105
Beautifully bright and effervescent with notes of peach, pear and melon.
Cabin in the Snow - Yuki no Bosha Junmai Ginjo, Akita
14/27
Gorgeous balance of stone-fruit and a luxurious finish.